Our topic for this term is...'Turrets, Towers and Dragon Tales'. Lots to learn and discover!
MANTLE OF THE EXPERT
During safety week Oak class enjoyed being 'experts'.
The children were put into groups and they represented the fire service, the traffic division of the police force, staff from the John Radcliffe hospital and the internet safety division of the police force.
The children worked hard all week preparing a 'stand' for their safety fayre which took place at the end of the week.
All the classes in the school were invited to their fayre and their stand had to teach the children about keeping safe.
The safety fayre was a huge success!
Well done Oak Class
We enjoyed creating some charcoal pictures of different castles and we also made our own version of the Bayeux Tapestry.
Art week was fun!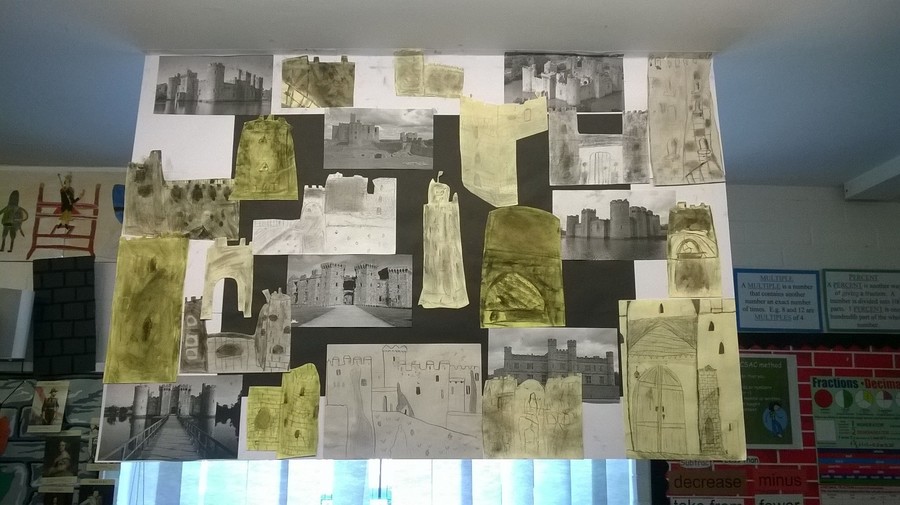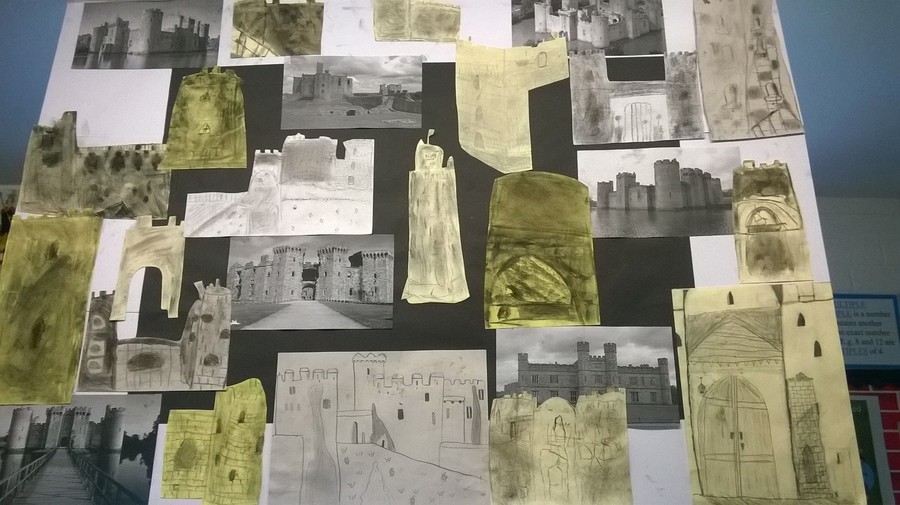 Our Year 3/4 gymnastics team represented St Joseph's at the county finals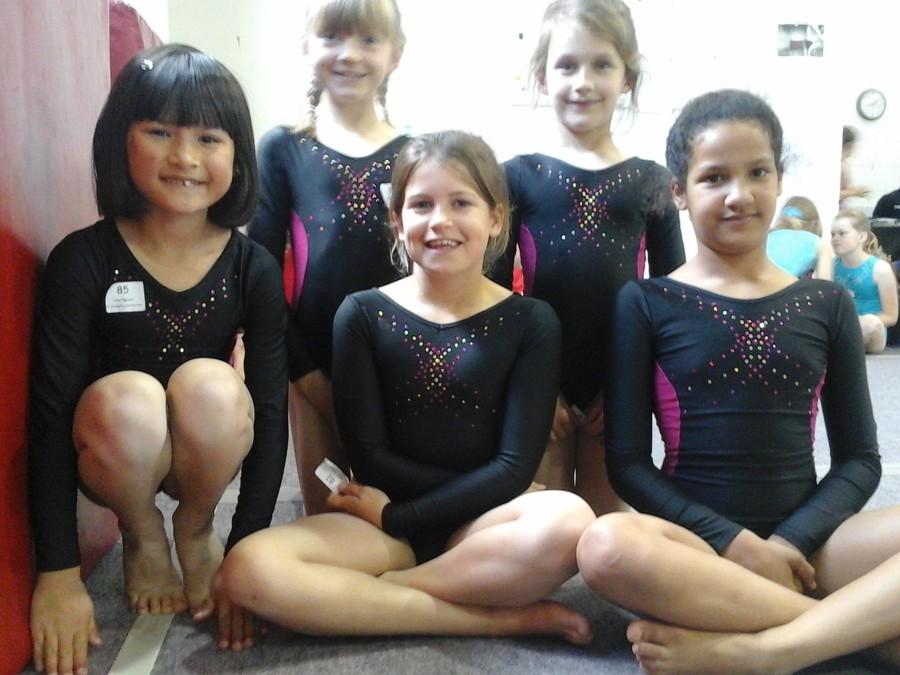 Megan, Lucy, Shayla, Hannah and Darcy represented St Joseph's at the county finals - something our school has never competed in before!
The girls were superb and performed their routines to a very high standard. The venue was a real treat as it is a proper gymnasium at Abingdon gym club, with a sprung floor and all the apparatus you would see in an Olympic venue. (The foam pit looked so tempting to dive into!).
I felt extremely proud of our team and it was a lovely opportunity for the girls to compete in this event. We finished in 5th place out of 7 teams - less than 2 marks from the gold medal team which was a great achievement.
Our class topic web for the Summer Term
Have we persuaded you to visit the ss Great Britain?
We had fun testing our boats which we made during Science week.
Our challenge was to design and make a boat to go as quickly as possible from one end of the tray to the other.
We did get quite wet during the testing process!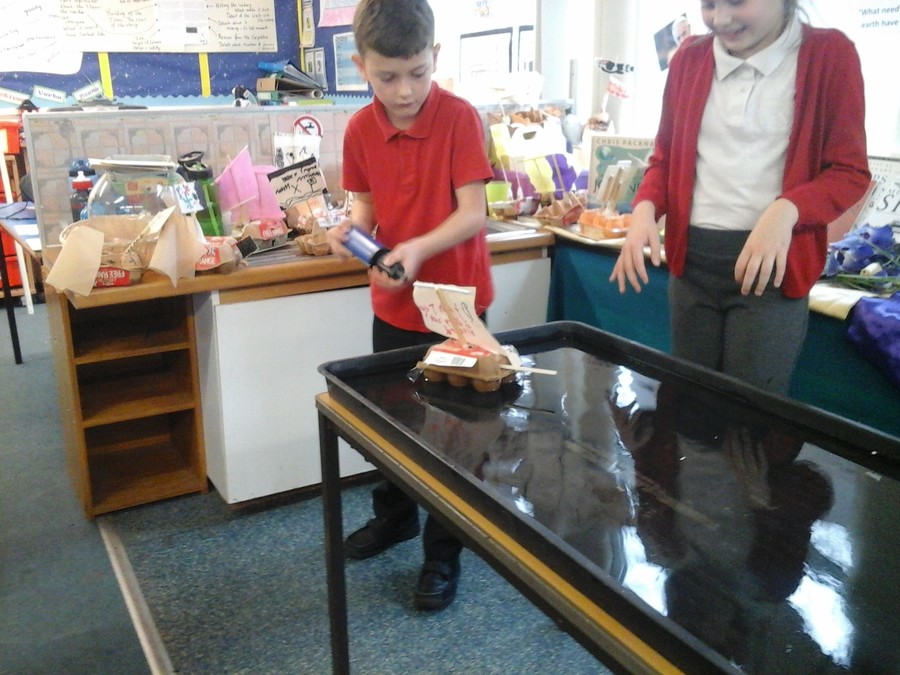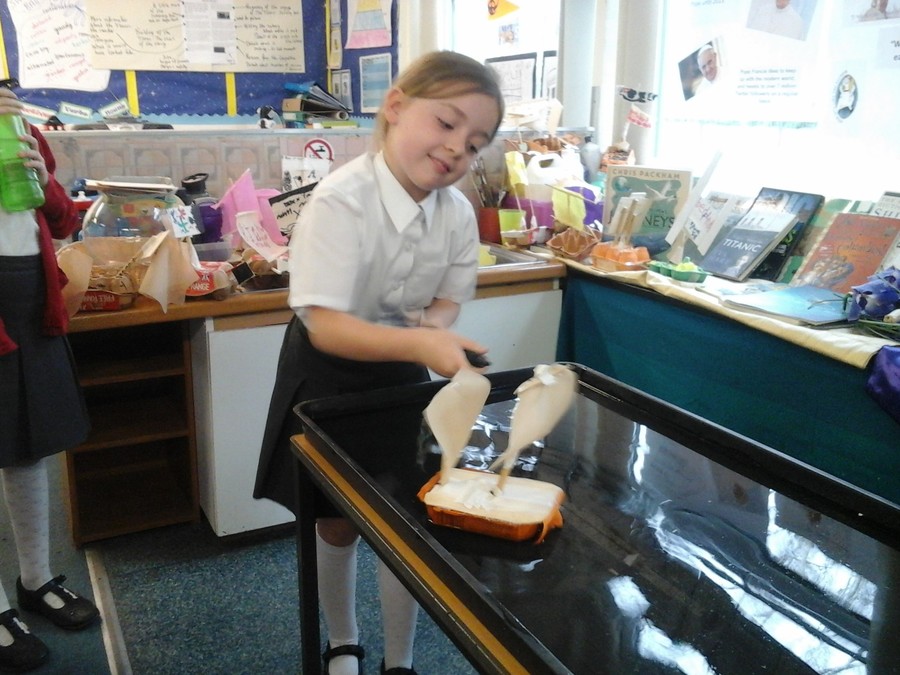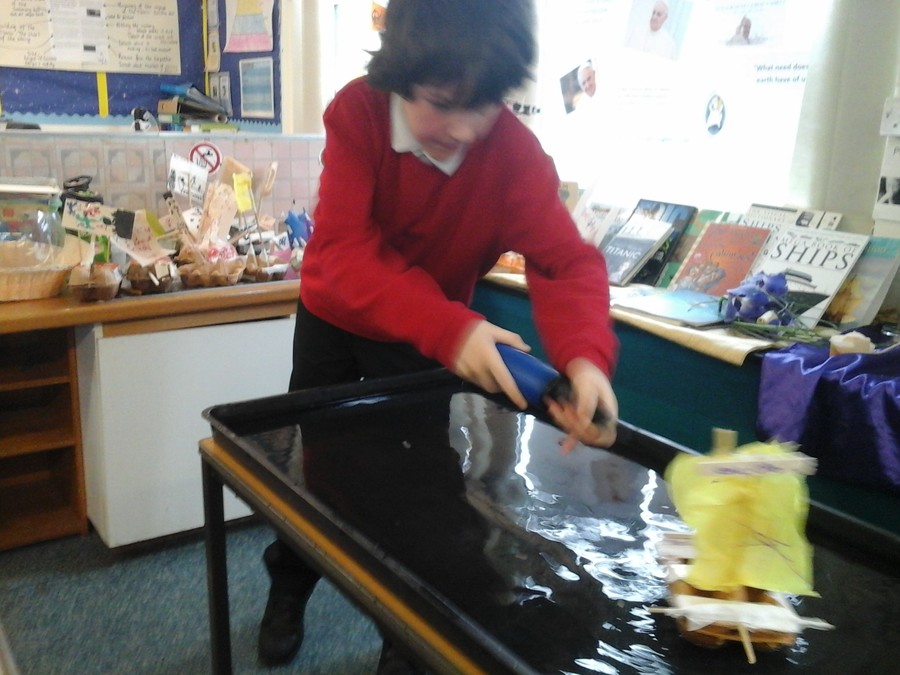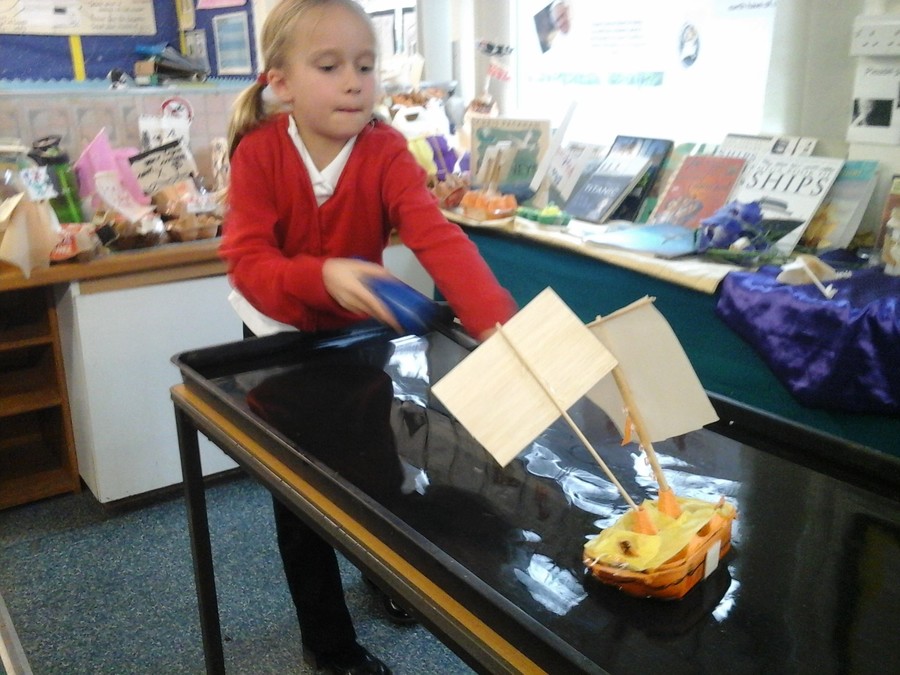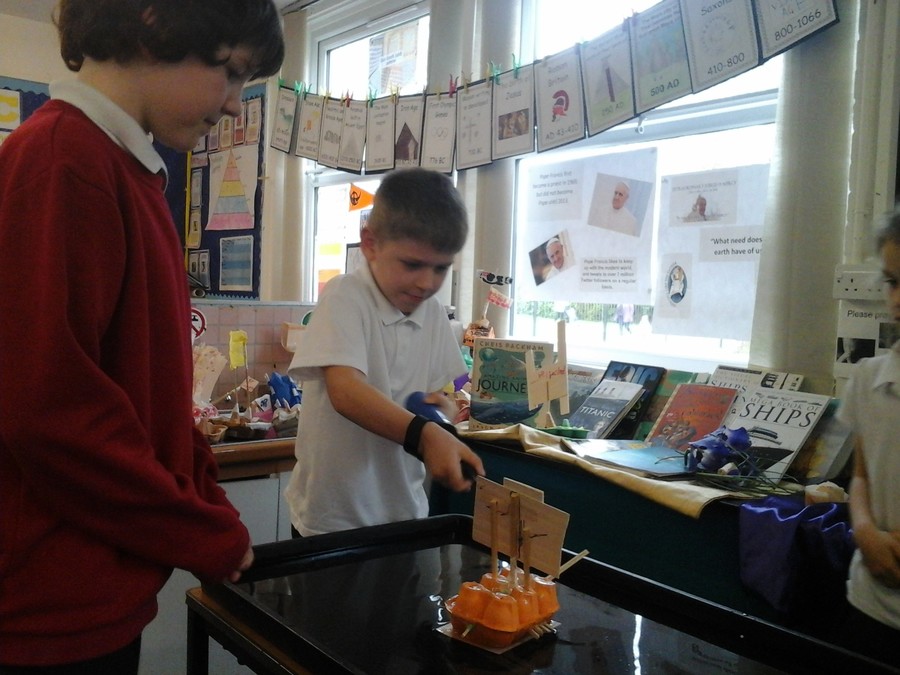 How do I multiply using the grid method?
Here is an example to help you: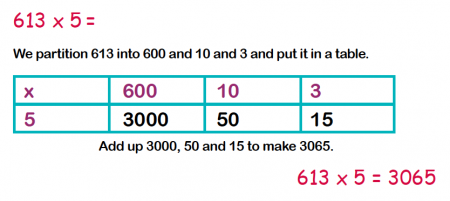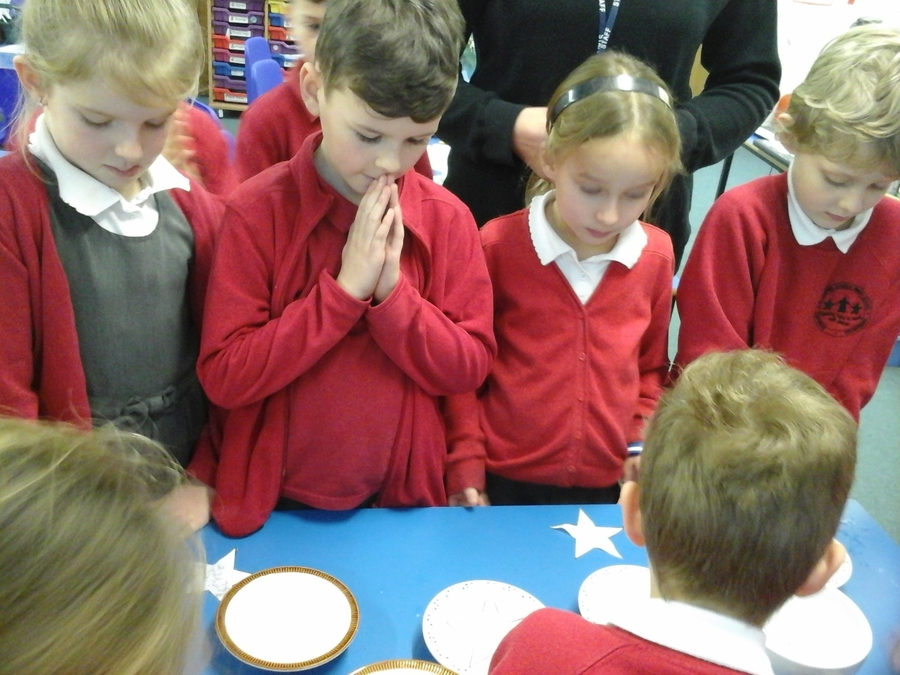 We wrote our prayers onto stars and put them in water...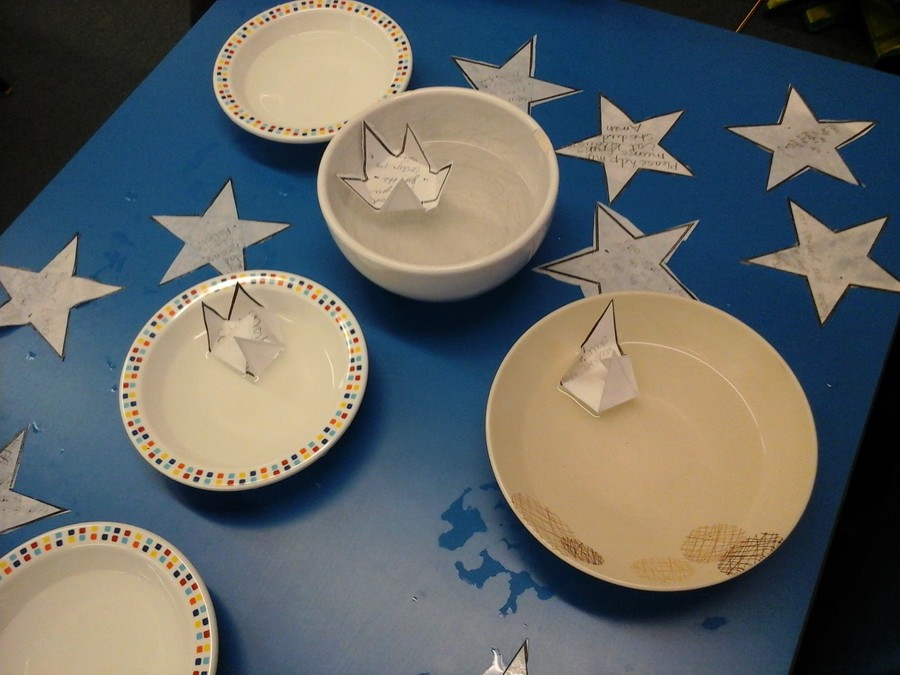 we watched our stars open up.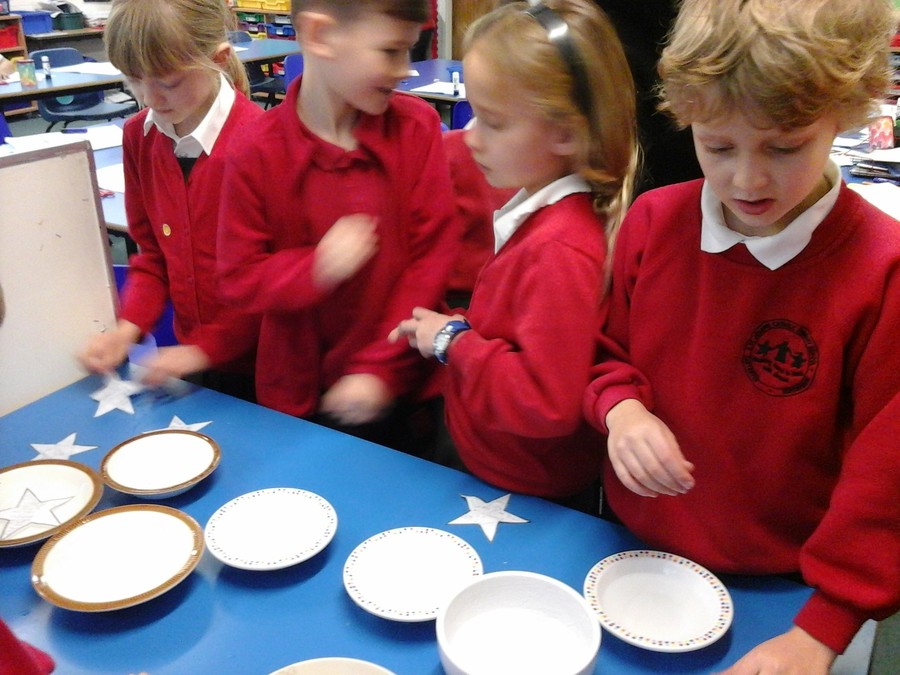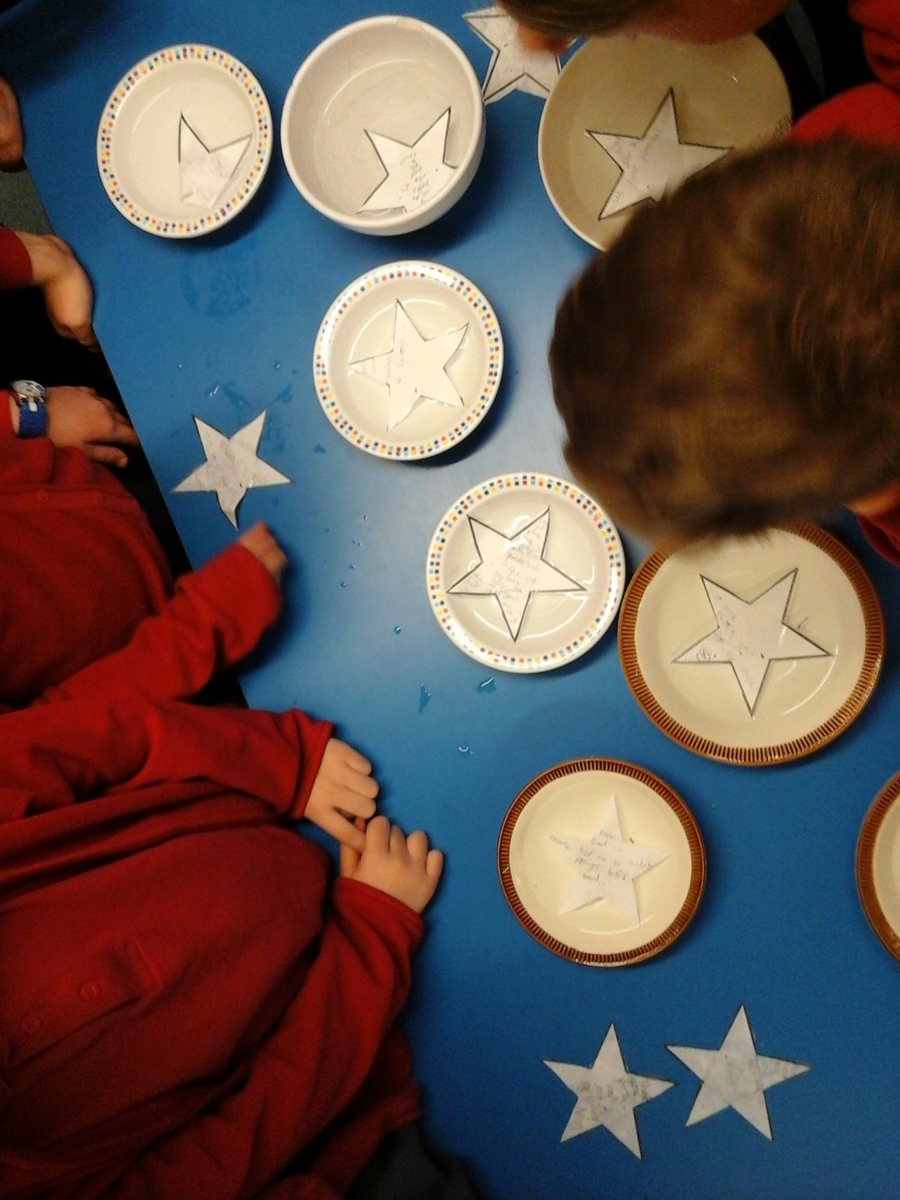 Boccia Success!
7 of our children took part in the boccia tournament at Carterton Community College. There were 18 teams taking part - Our A team won and our B team got through to the Quarter finals which was a fantastic result.
Well done to all the children who took part.
Have a look in the school newsletter to see the photographs.
Multi skills for Year 3 at Carterton Community College
All Year 3 children went to CCC and took part in a variety of activities organised by the Sport Leaders at the College. The children balanced, ran through ladders, aimed at targets with bean bags, jumped over hurdles and much more. A really lovely afternoon of sport and the children were brilliant!
Our School Hall became The Titanic for our drama work!
The children have been looking at a picture of The Titanic before it set sail. It wasn't ready as it had to be loaded, decorated, furnished and completed. The children chose some of the jobs to do on The Titanic and they have acted them out. Some children were painting the squash court, others were climbing the huge funnel to attach the whistle, a few children were welders and there were many moving the furniture on the beautiful ship ready for her maiden voyage.
Here are some photos of their drama work below:
Basketball success!!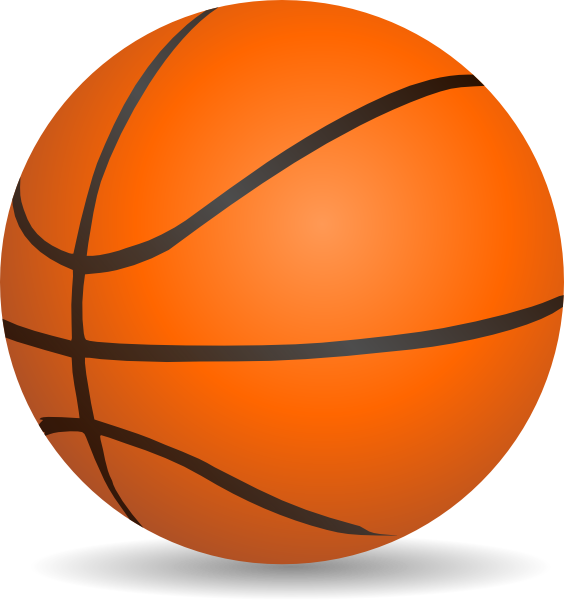 20 children from Oak class and Chestnut class took part in a basketball festival and tournament at Carterton Community College and had a great time. They took part in some coaching beforehand and then they played matches against teams from another Carterton school.
One of our teams were runners up and our other team WON! We won a huge trophy which we proudly carried back to school with us.
The children were so well behaved and they really enjoyed learning and playing a new sport.
Well done to everyone
Oak class learning about baptism
Father Andrew talked to us today about baptism and he asked us lots of questions to help us with our understanding.
He showed us how someone is baptised and we discussed what it means to be baptised and the importance of this.
Thank you to Father Andrew for making our R.E lessons 'real' from our experience today.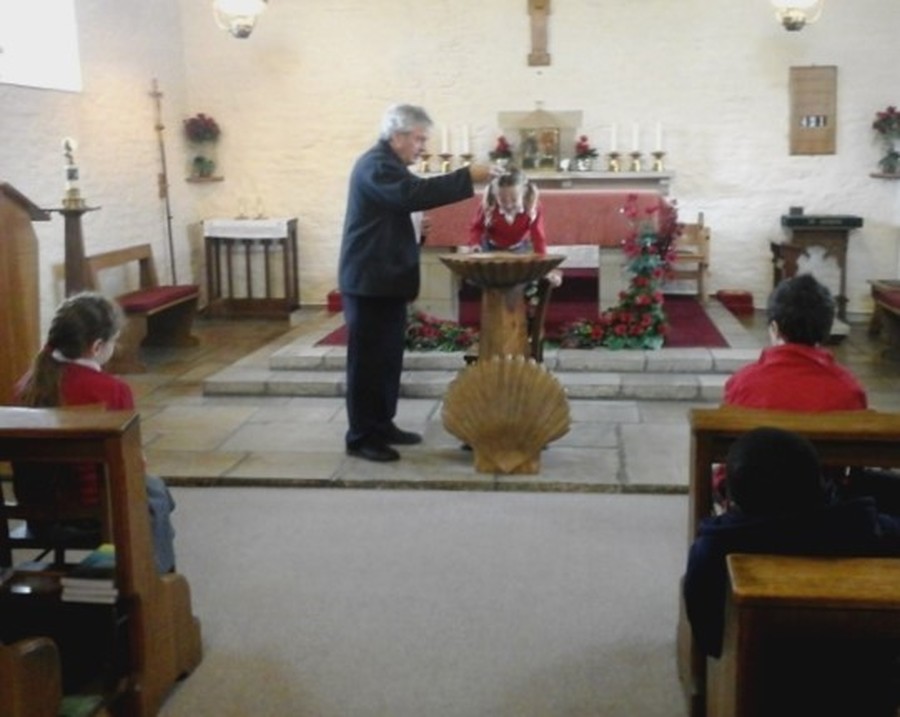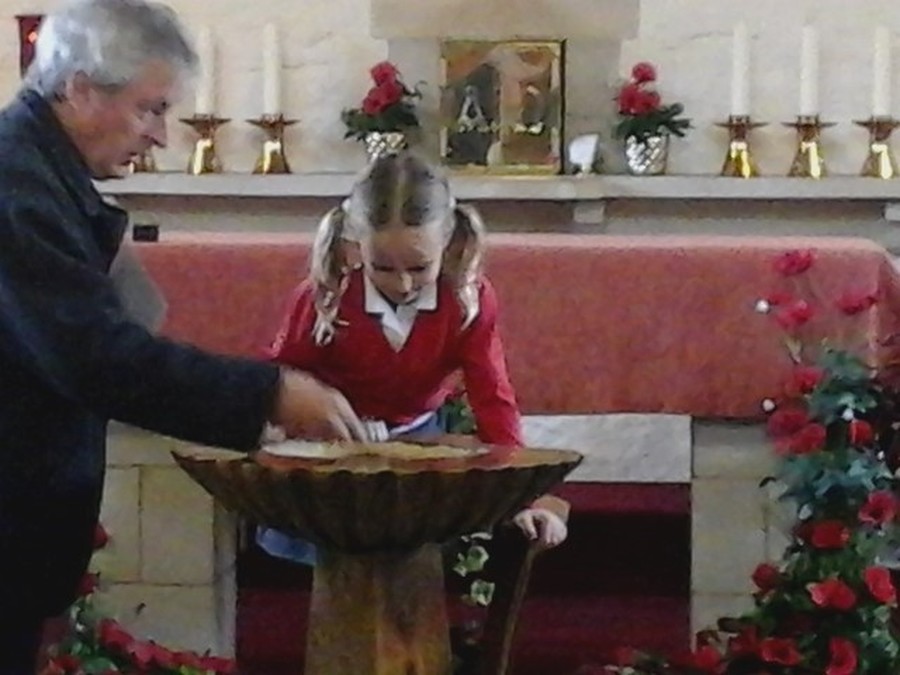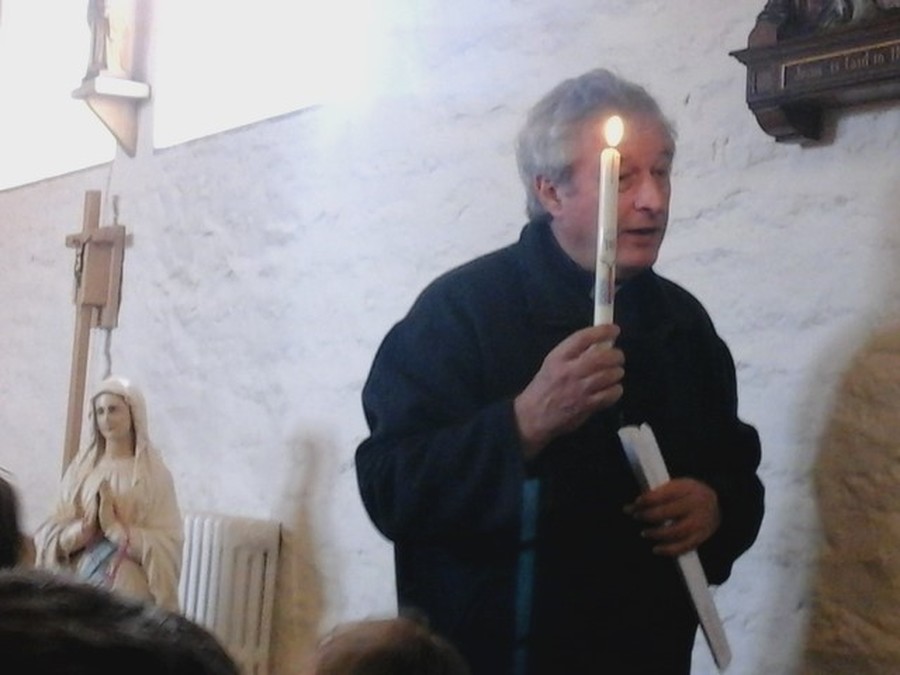 Our alphabet Poem
Following on from our workshop with John Foster on National Poetry Day we wrote a class poem. Our poem is not in alphabetical order, but you can read all our ideas for each letter of the alphabet.
We sent it to John Foster to read and he really liked it.
Our library visits
Our class will be visiting Carterton library once every three weeks on a Tuesday afternoon.
If you don't have a library card, then please take the form I gave you to the library and they will register you and give you a card. (Your parents/carers need to be with you to sign the form).
Problem solving using the 'Bar model'
We used different sized bars in our maths lesson to represent addition and multiplication sums. We thought about how to show these sums and what they looked like.
We also discussed what each bar represented. Darcy thought they represented 'ones' whereas Khai thought they could be 'tens'.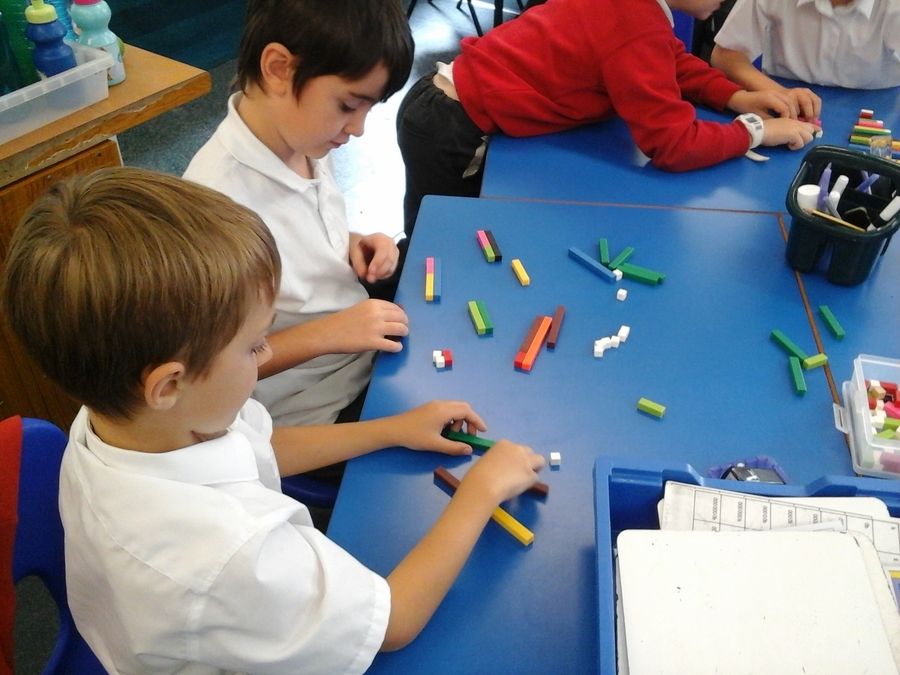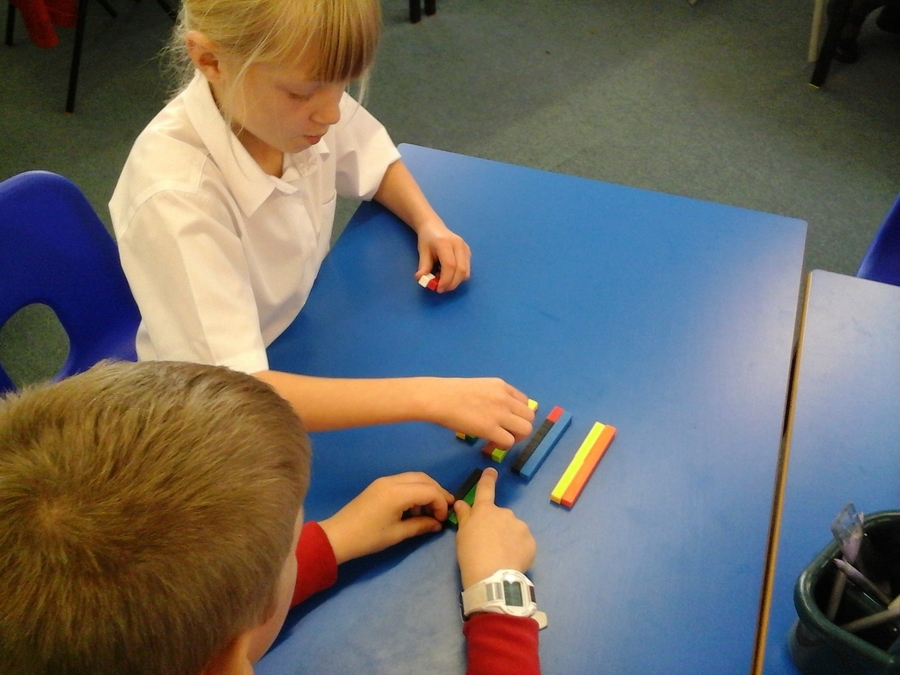 Comments (1)
Show Comments
Imogen
(a couple of months ago)
Well done Mrs Henderson I love Oak's Web page
Oak Class went to Carterton library on Tuesday 4th July. They returned books but didn't take any new ones out as this was our last visit.
Some children were given a little printed out slip detailing the books which they still have out on loan. If you are not sure, then just pop into the library and check with them.
The Walk to Emmaus
In our R.E lessons we have been reading and learning about the story of the walk to Emmaus - Luke 24: 13-35.
In small groups we acted out the story and enjoyed playing the different parts.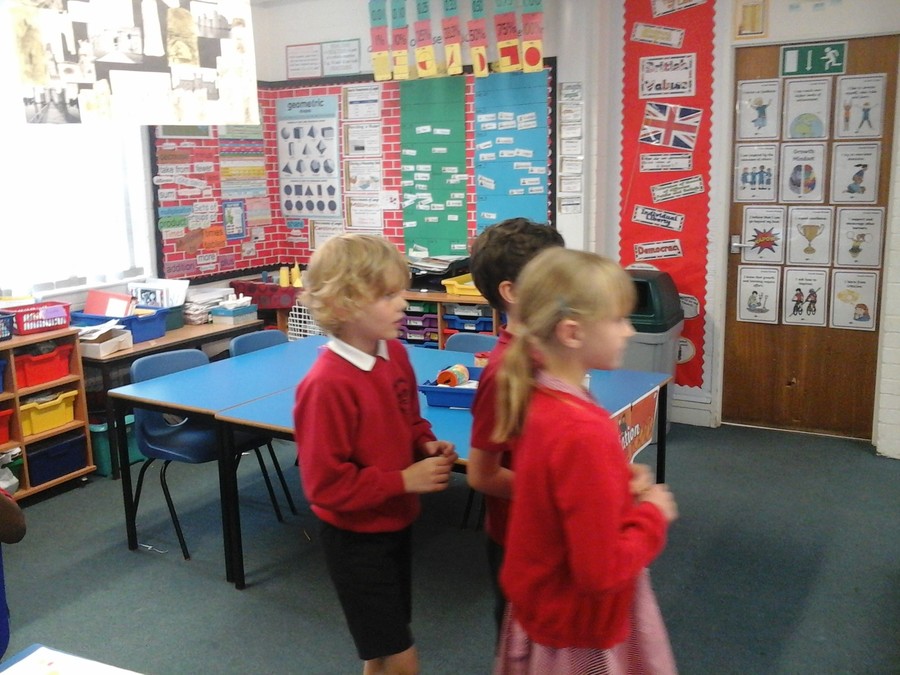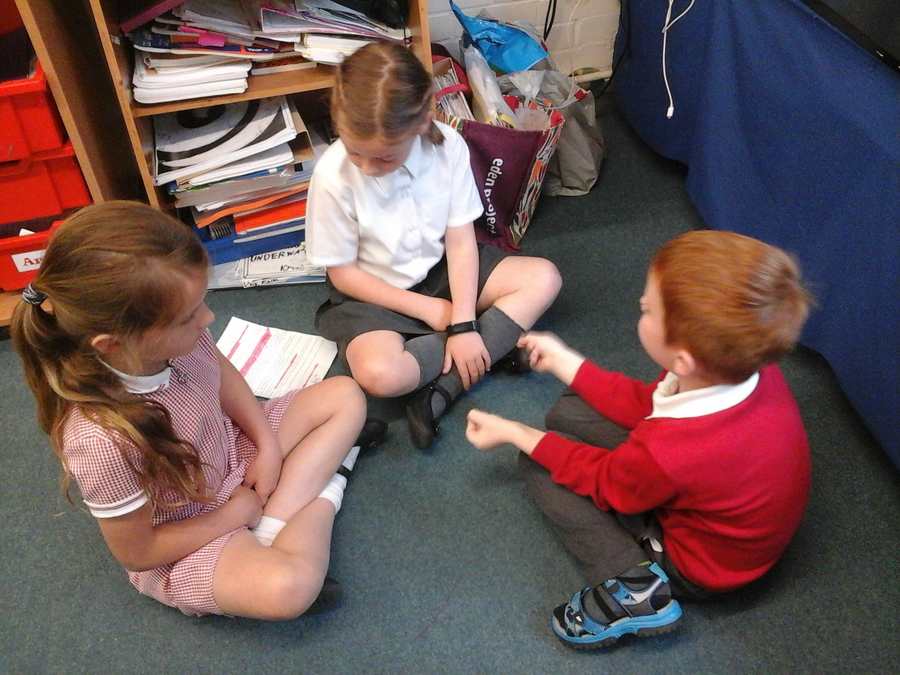 Oak class were visited by the police!
Sergeant Payne from Thames Valley Police came into talk to Oak class and it was a brilliant learning experience for the children.
Some of the children role played how 999 calls are made and how they are received and dealt with at the control centre in Kidlington. Sergeant Payne gave one of the children her jacket to wear and he really looked the part!
We were allowed to explore the patrol car and she explained about all the different parts of the car and of course we heard the sirens!
A huge thank you to Sergeant Payne for coming into Oak class - we really enjoyed your visit and learned a lot.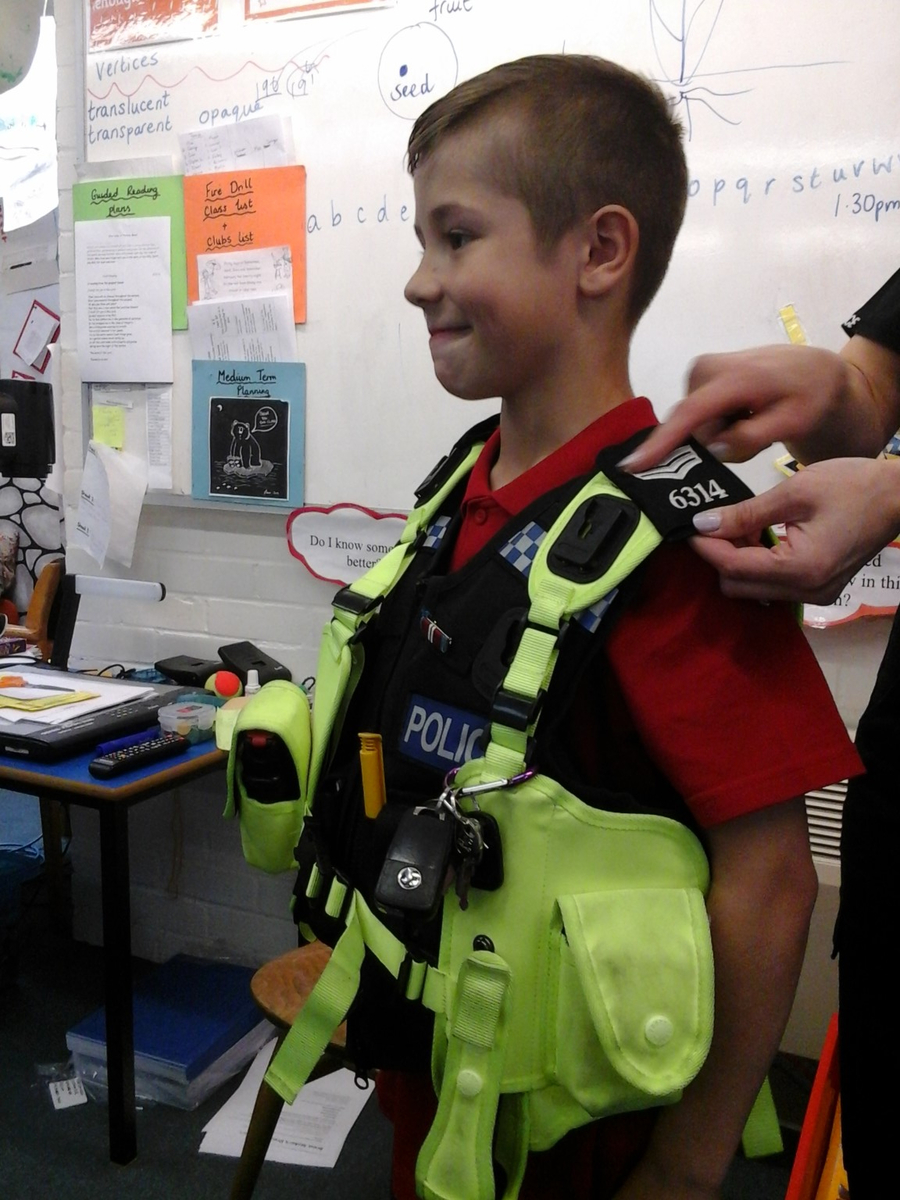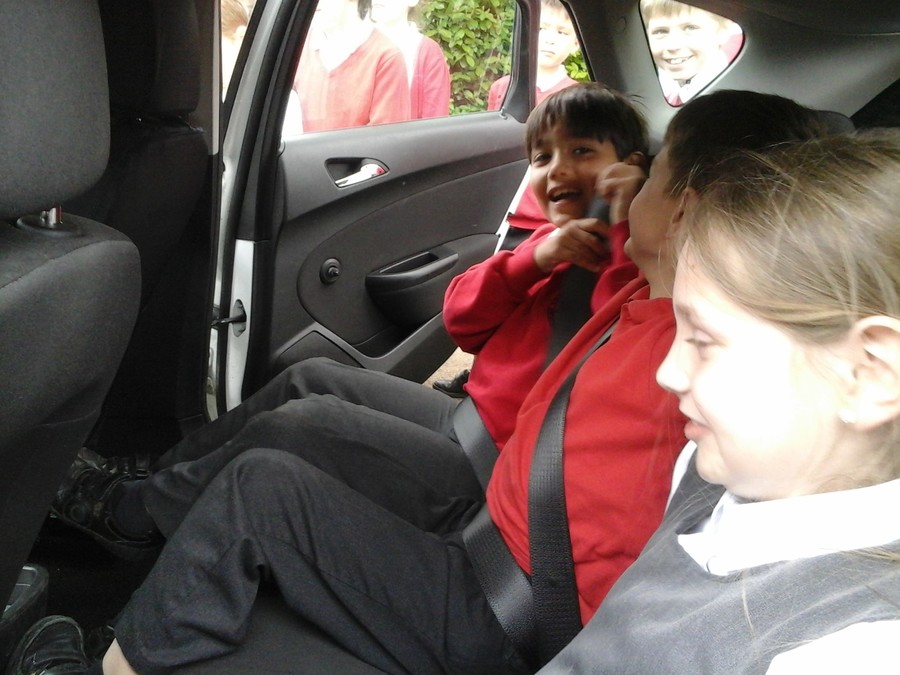 Books we will be reading and enjoying as part of the Big Read and in class are:
Do you dare discover the dragon? A spine tinging collection of original stories and famous folklore. (Fangs 'n' Fire)
"No clue about why the Queen vanished had ever been found. Until now..."(Castle of Shadows)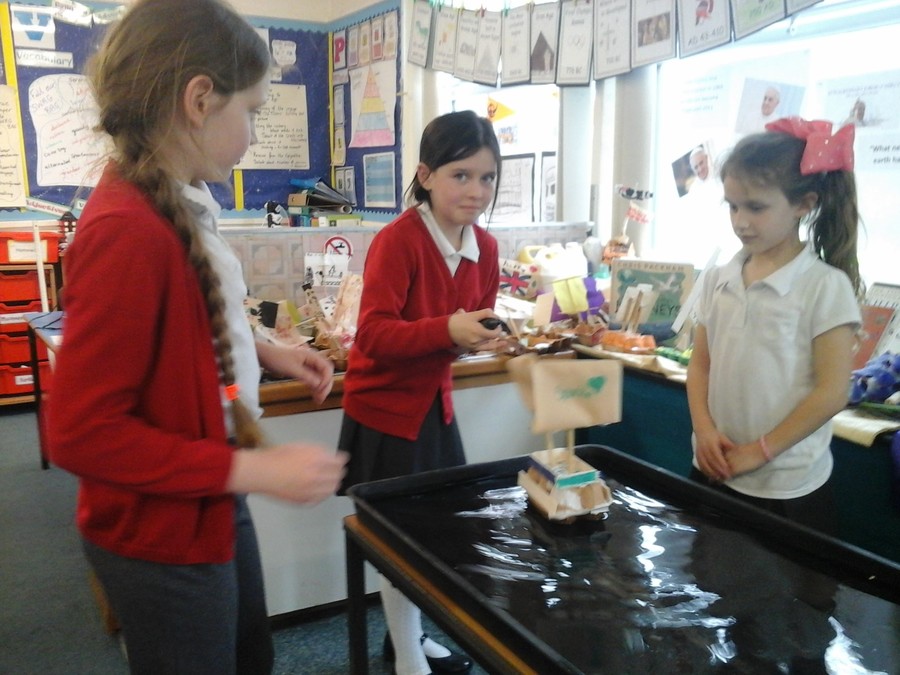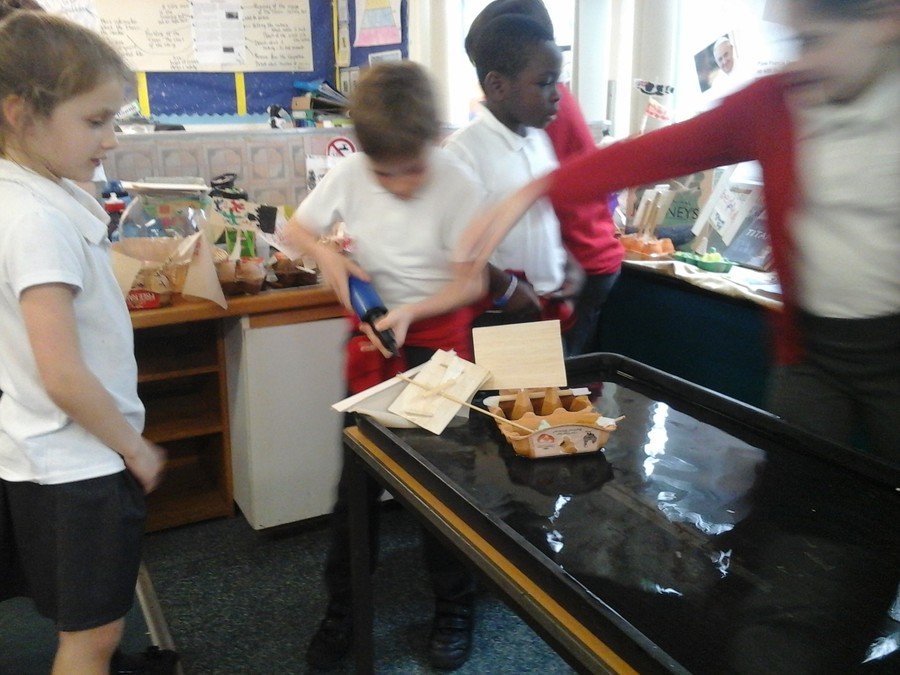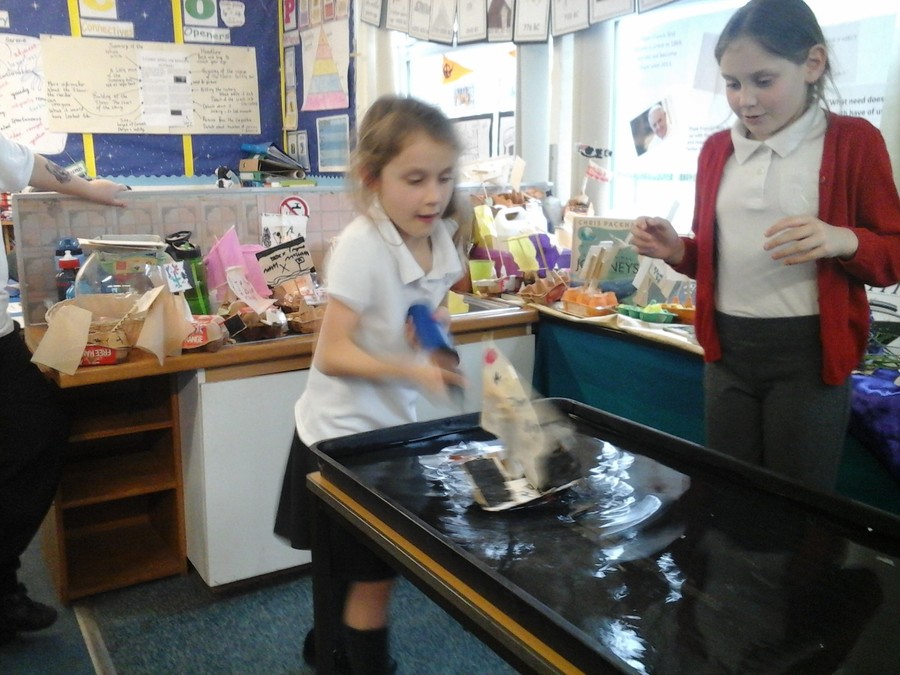 POETRY WITH JOHN FOSTER!
John Foster came in to work with Oak class during Science week. We wrote a poem with him about the brain. We tried to think of all the things our brain does and we wrote it as if the brain was narrating the poem.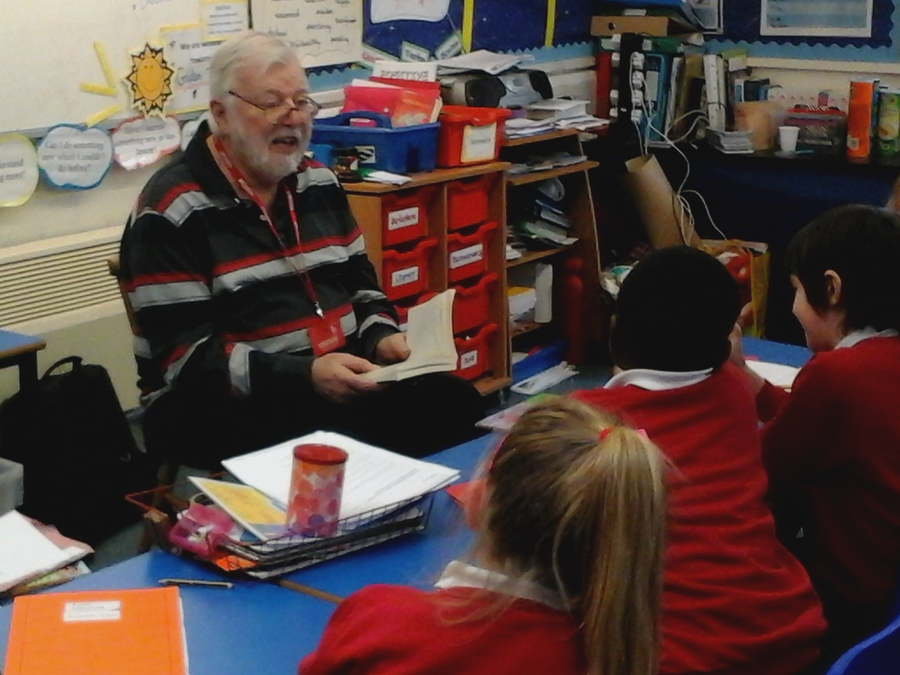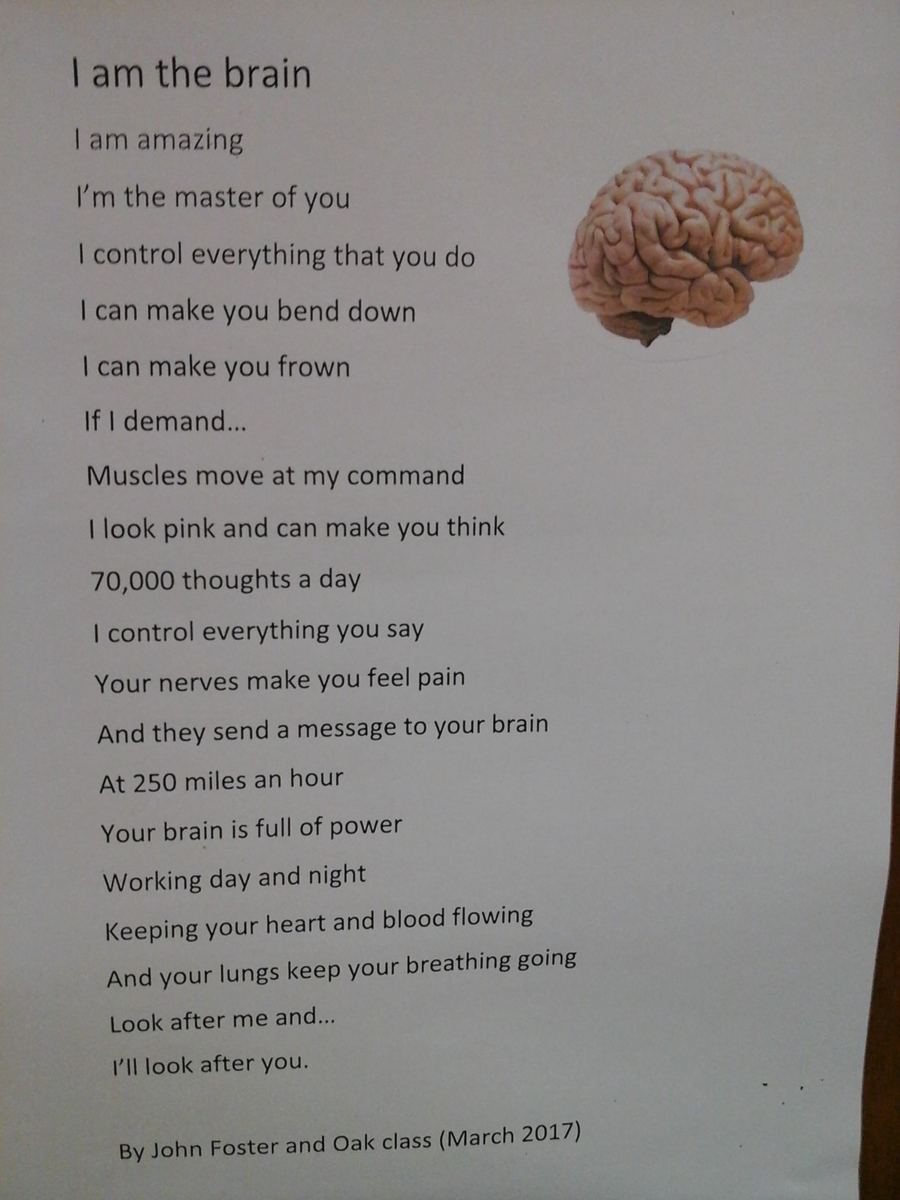 Our trip to visit Brunel's ss Great Britain in Bristol was fantastic! The children really enjoyed themselves.
Have a look on the website to see where we went:
Some pictures from World Book Day: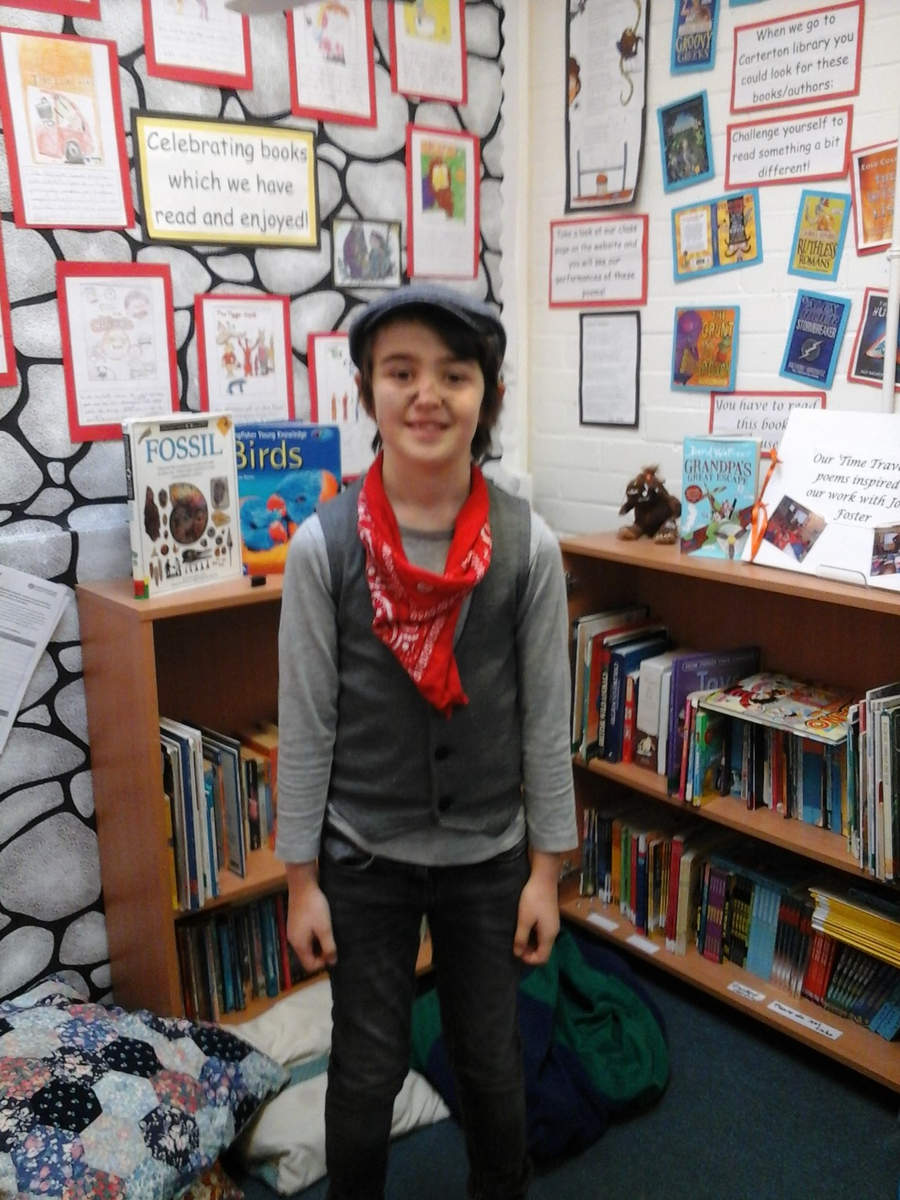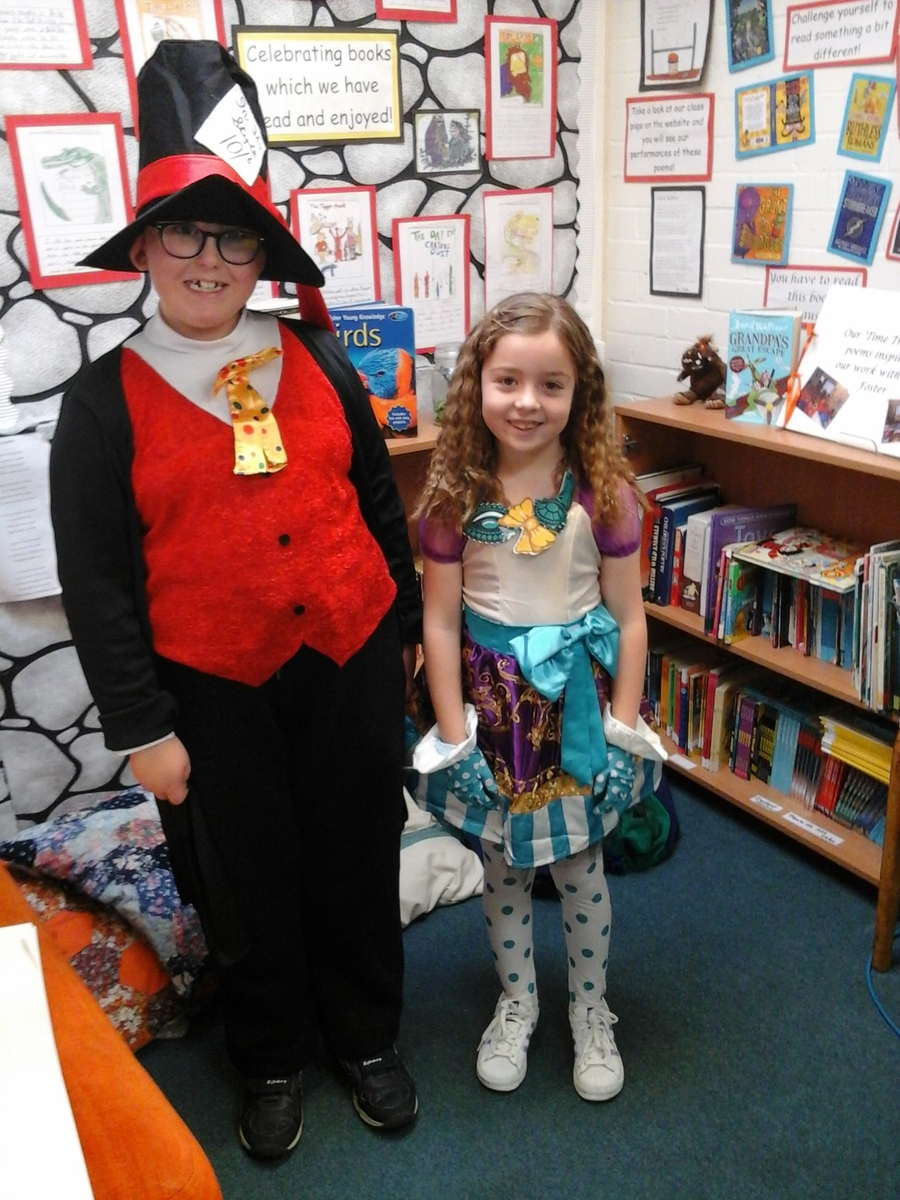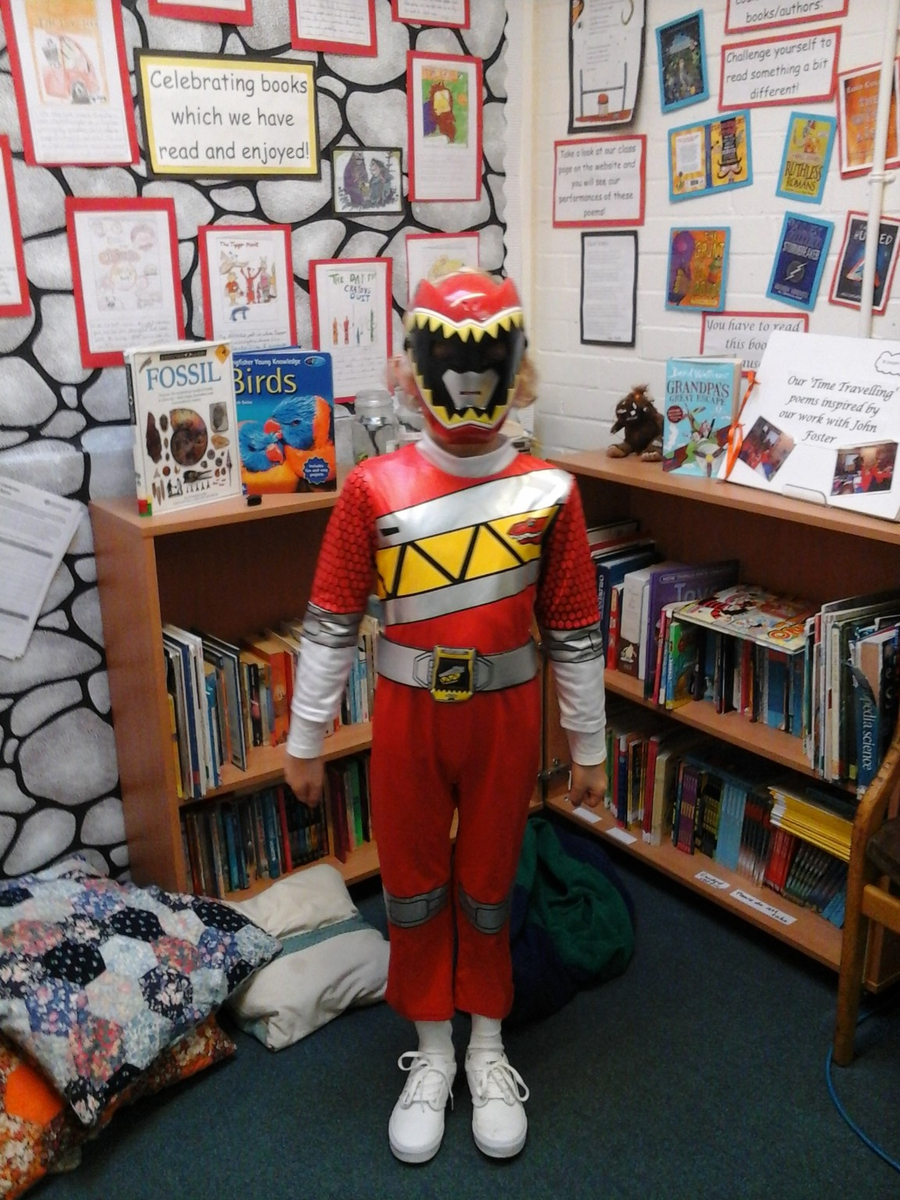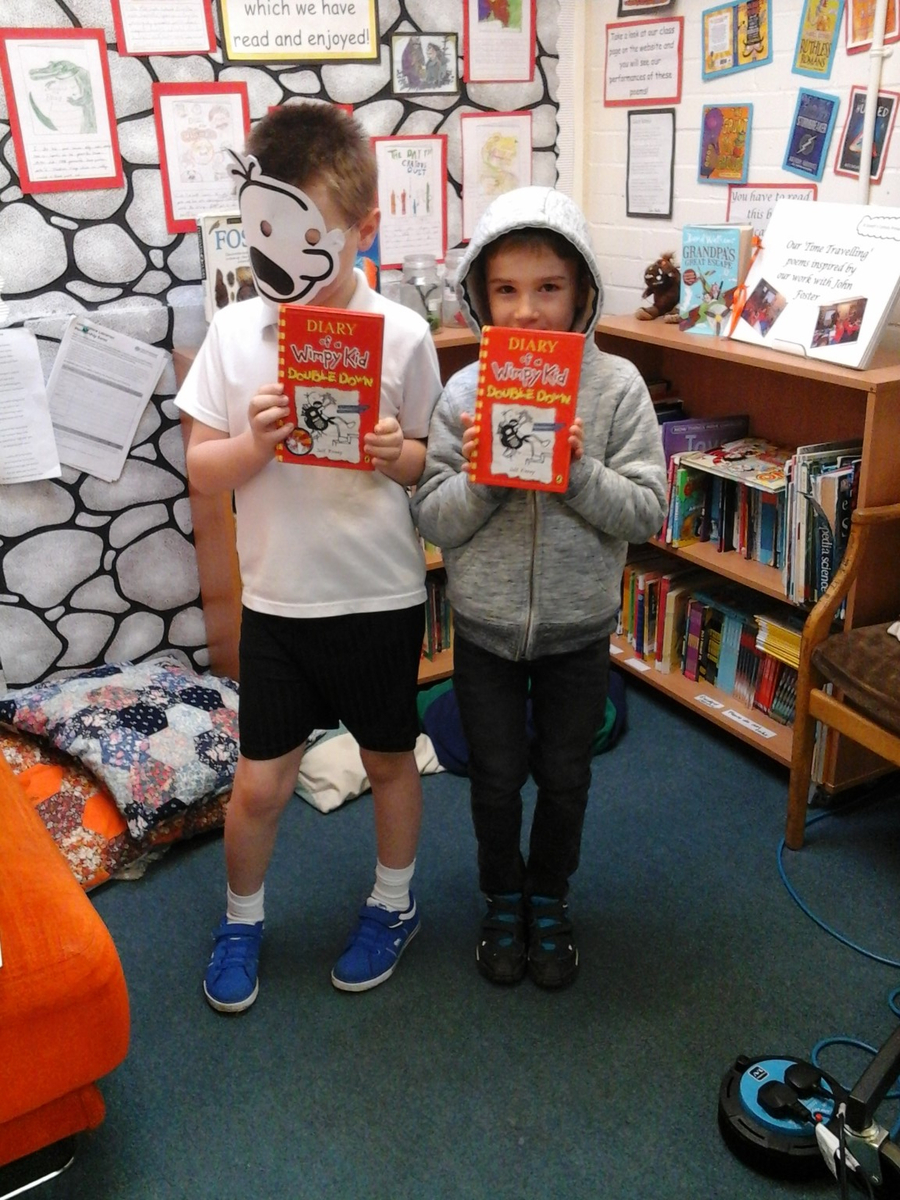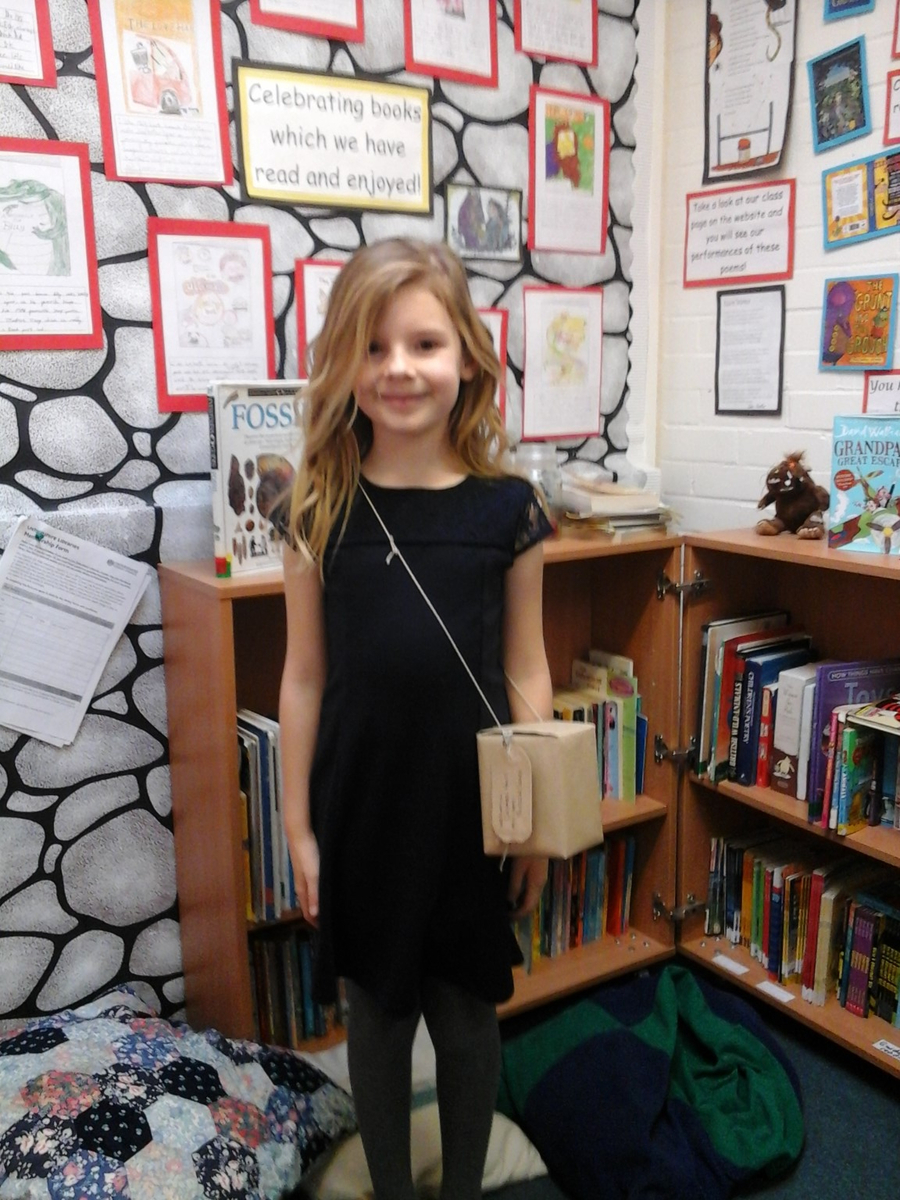 Problem Solving using the bar model
Here are some examples of work from our lessons this week where we have shown some addition and subtraction problems using the bar model.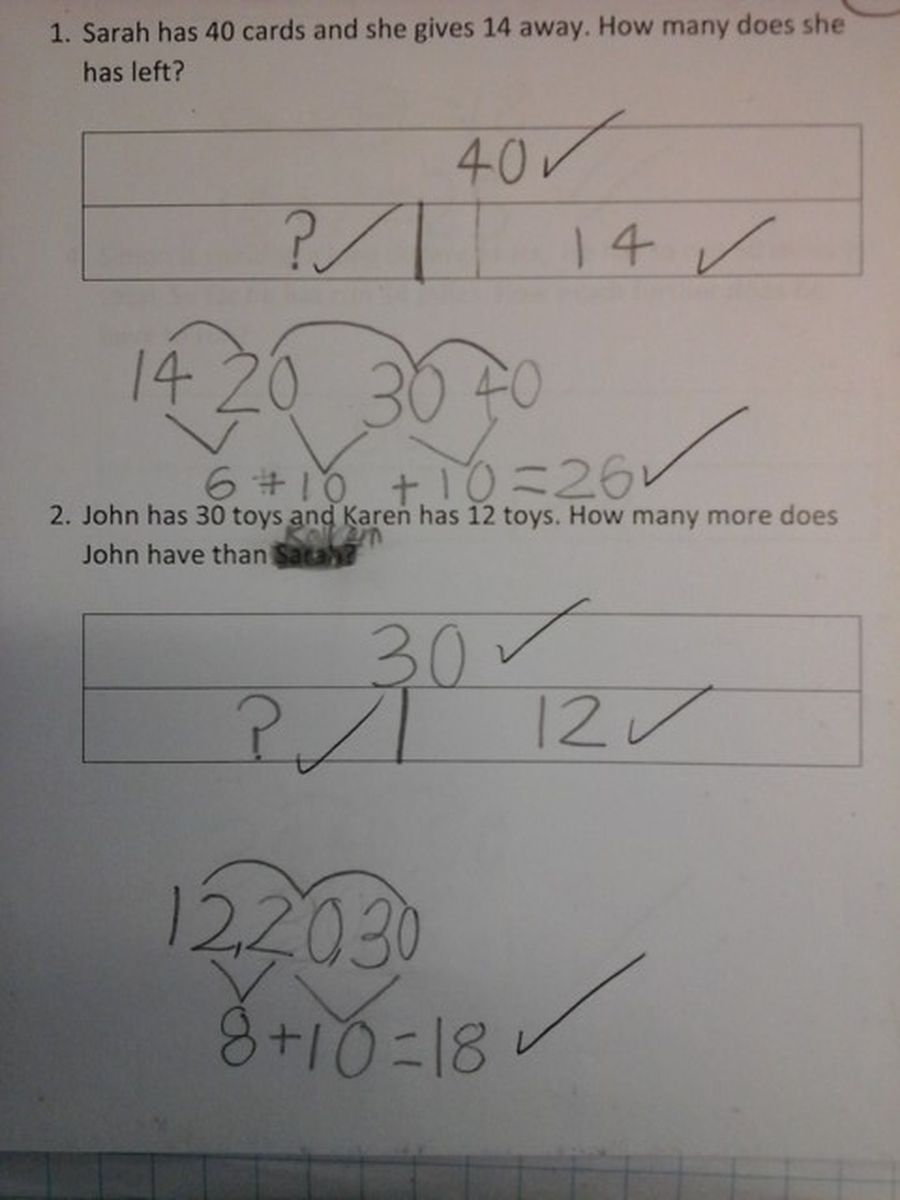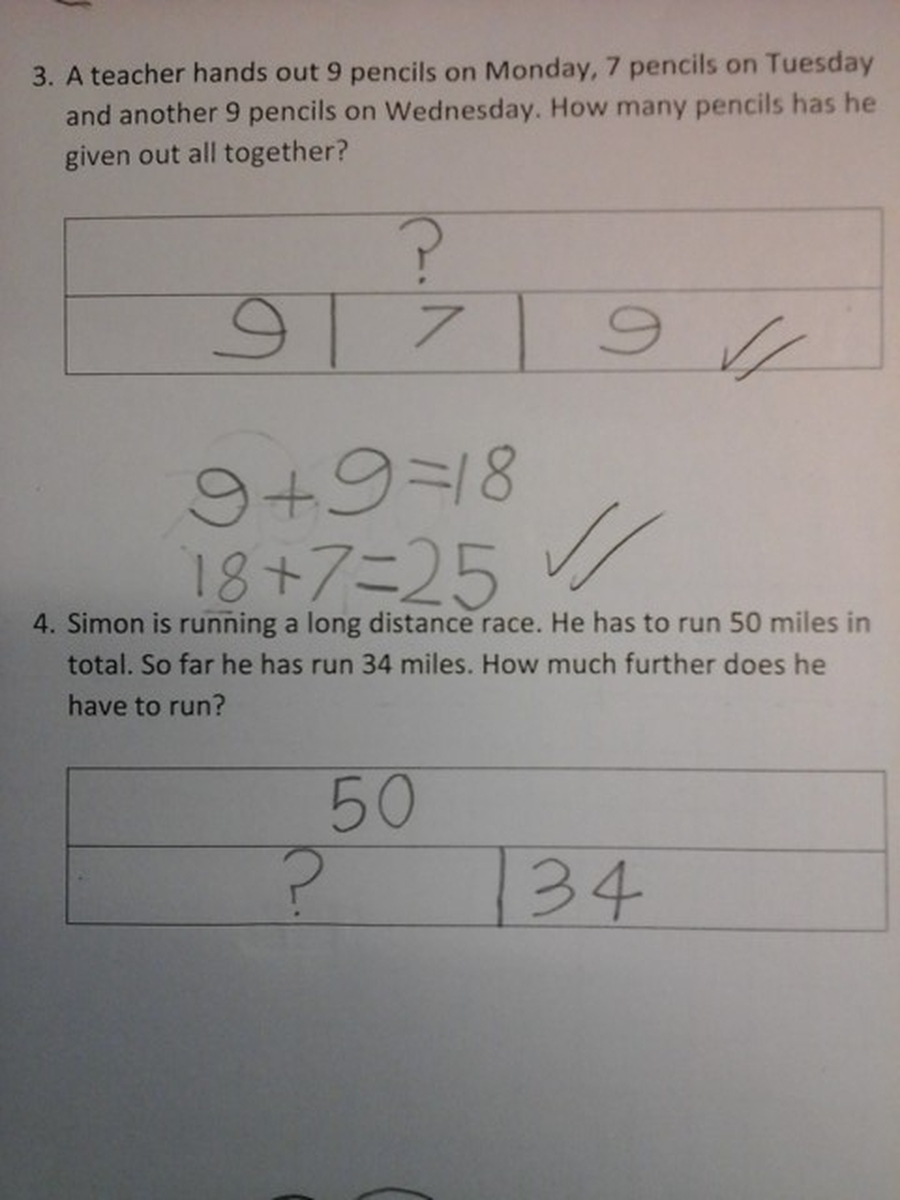 Year 3 R.E
'The Calling of Samuel'
In R.E the children are learning about listening to God's Word at Mass.
We read the story from the Bible where Samuel is in the temple and during the night he thinks Eli is calling his name, however he realises that it is not Eli calling his name, it is the LORD.
The children worked in groups of three to act out this story. Here are their videos:
Problem solving involving money
The children have been working out different ways to make 30p. They have thought about the fewest/most coins they would need. They have also worked out how many coins they would need if all the coins were the same.
We took out 15 x 2pence pieces to show that it equals 30p. We discussed the relationship between each answer - could we use an answer from before to help us?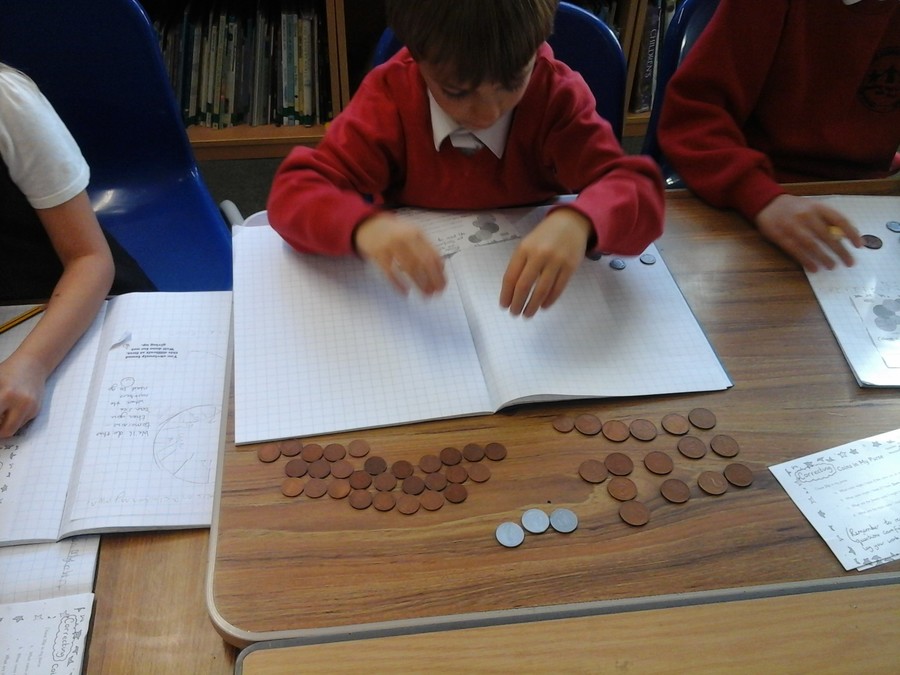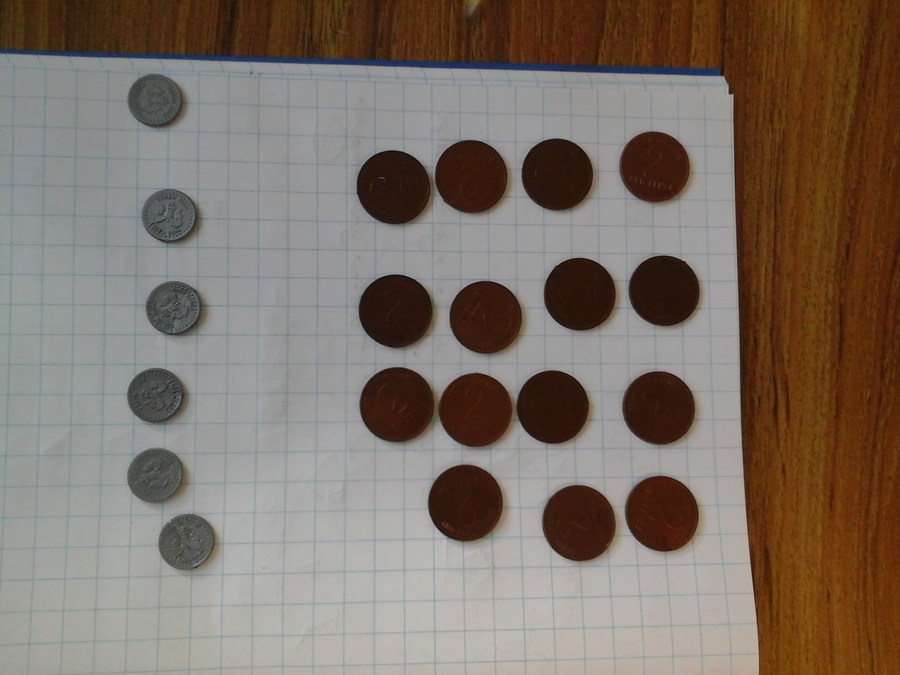 Our science topic:
The children have been learning about what their bodies need to stay healthy. We have been looking at the different food groups and thinking about why we need something from each one.
We have also had fun making skeletons - we named the different parts and then thought about how each part protects important organs in our bodies.
We had fun naming our skeletons!
Here are they are: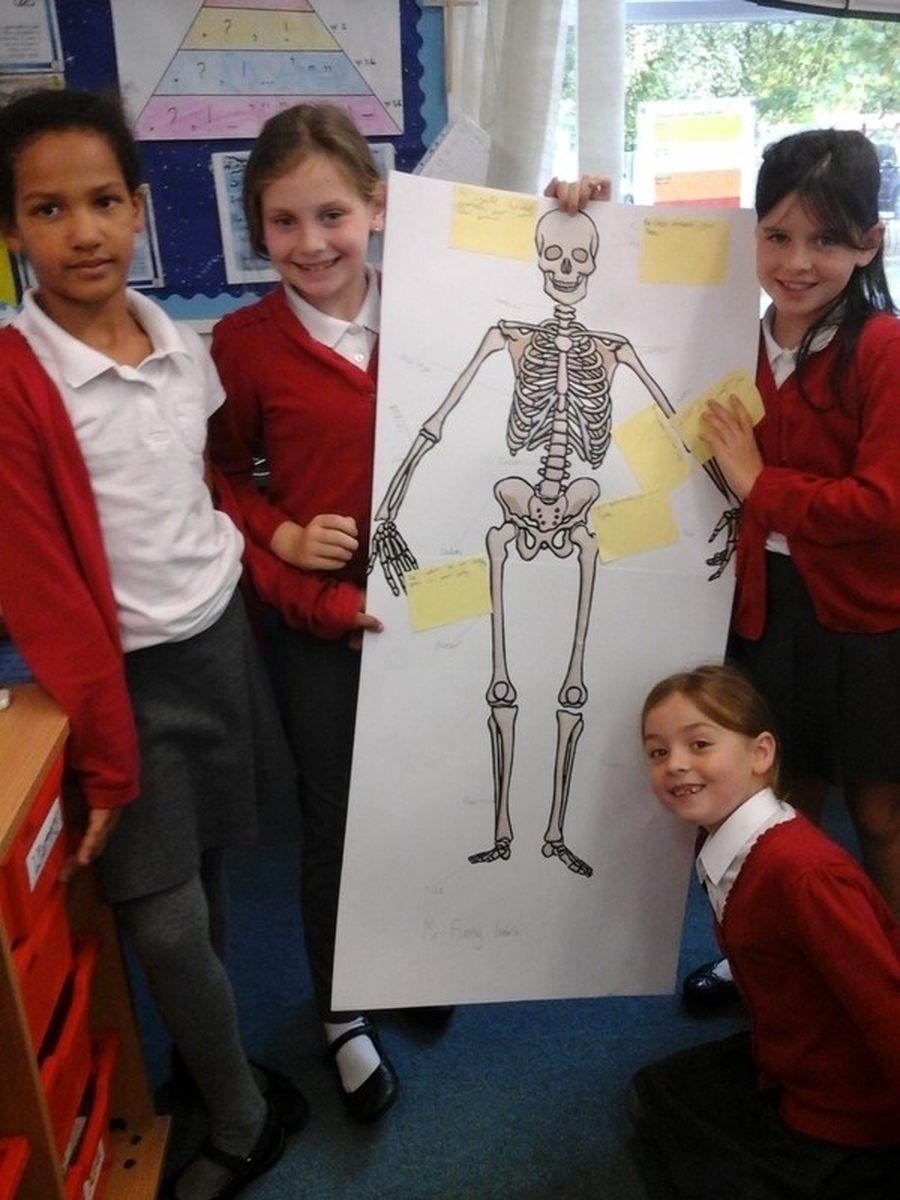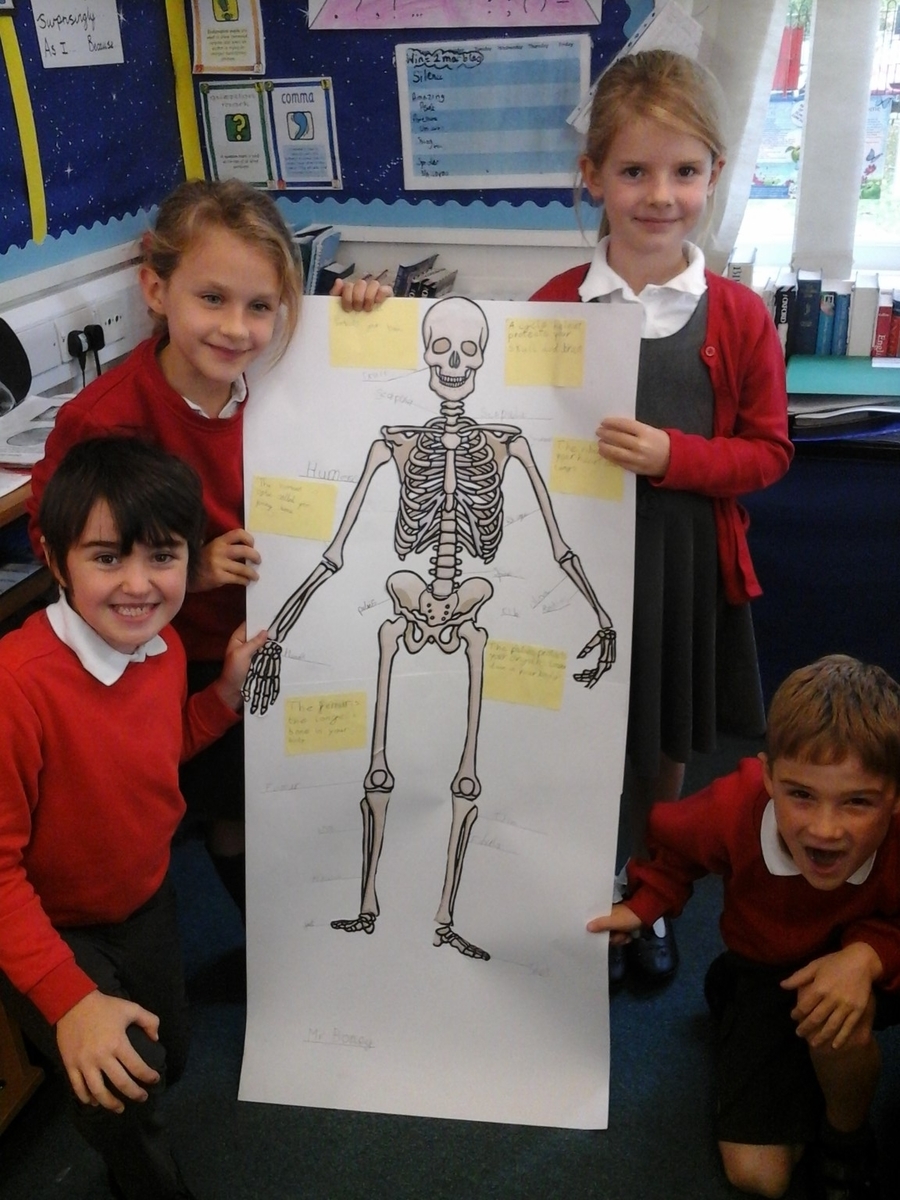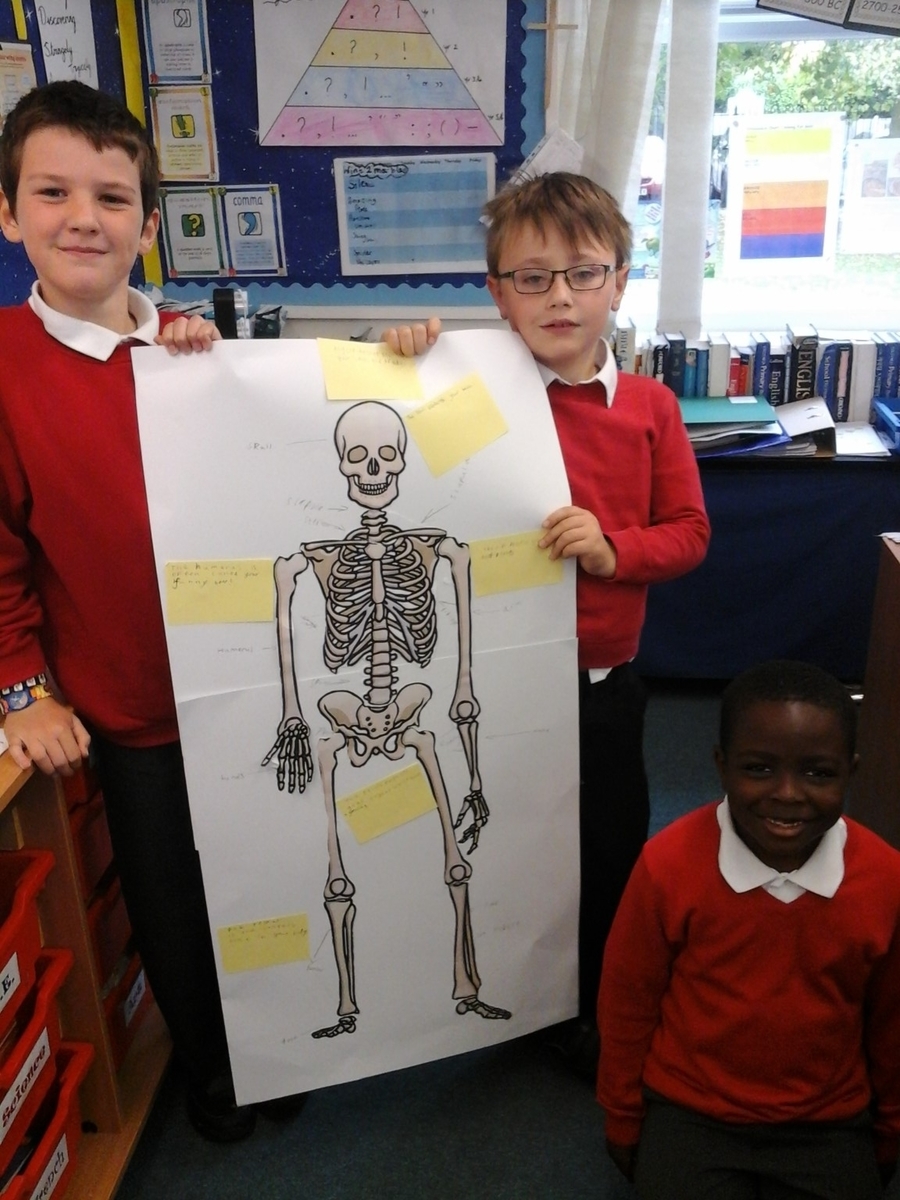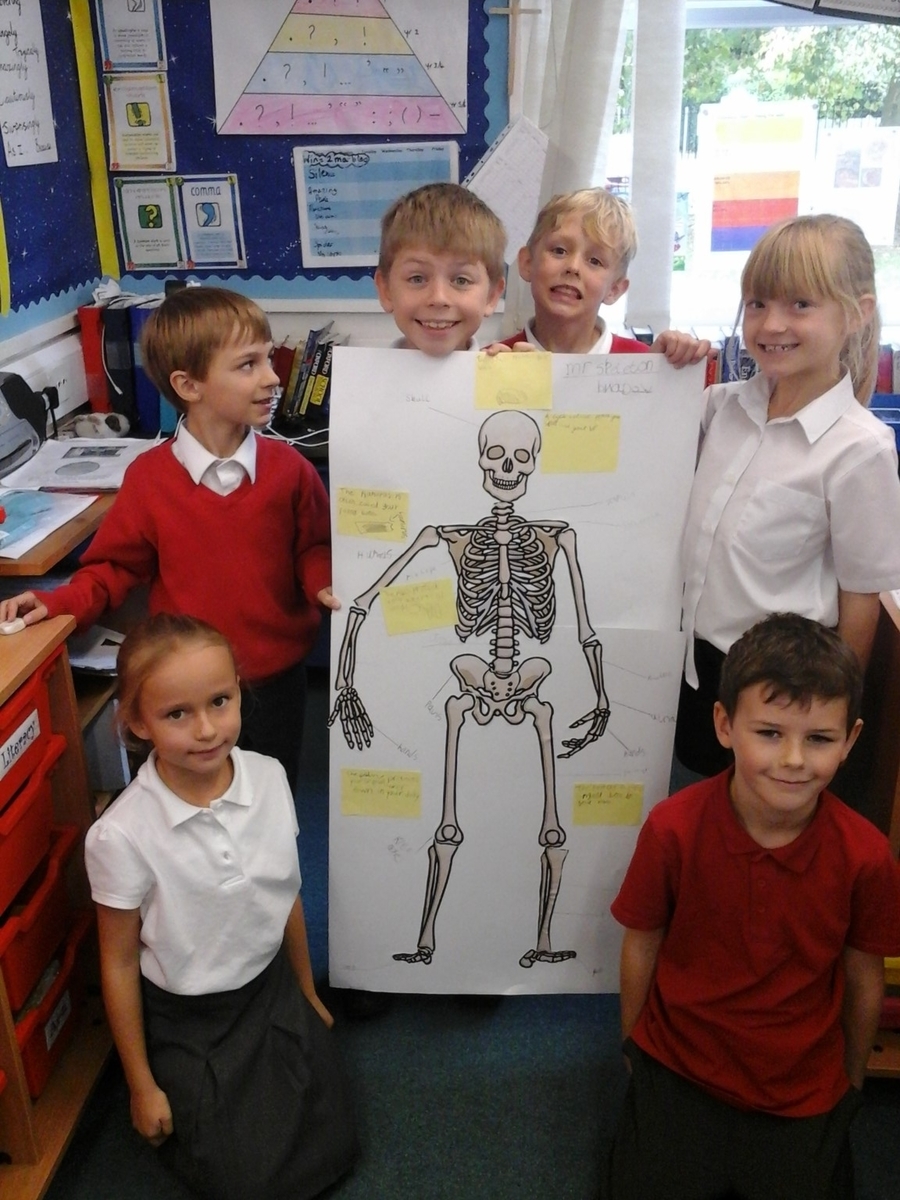 Our science investigation
The children were given this question to investigate:
Do children with the longest femur jump the furthest?
We had a lot of fun and discussion about out where/how to measure our femur!
The children carried out this investigation and the results were very surprising. We will add our work to this page very soon.
What do you know about the femur?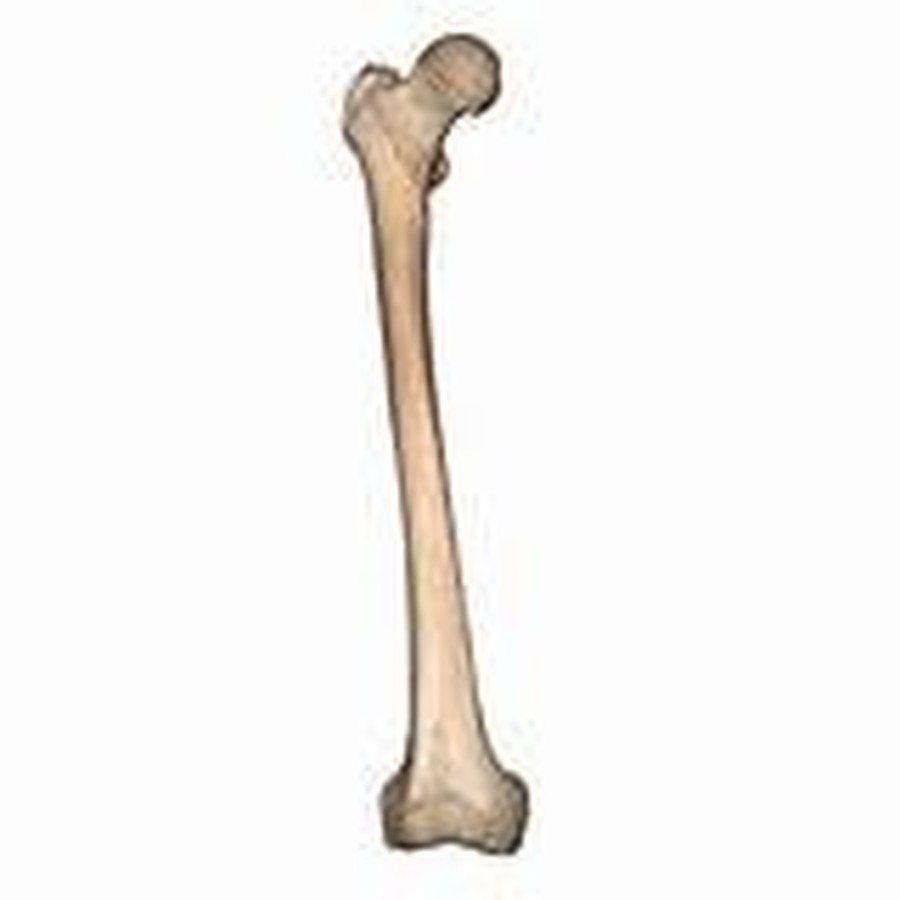 Does it necessarily mean that if you have a long femur you will jump the furthest?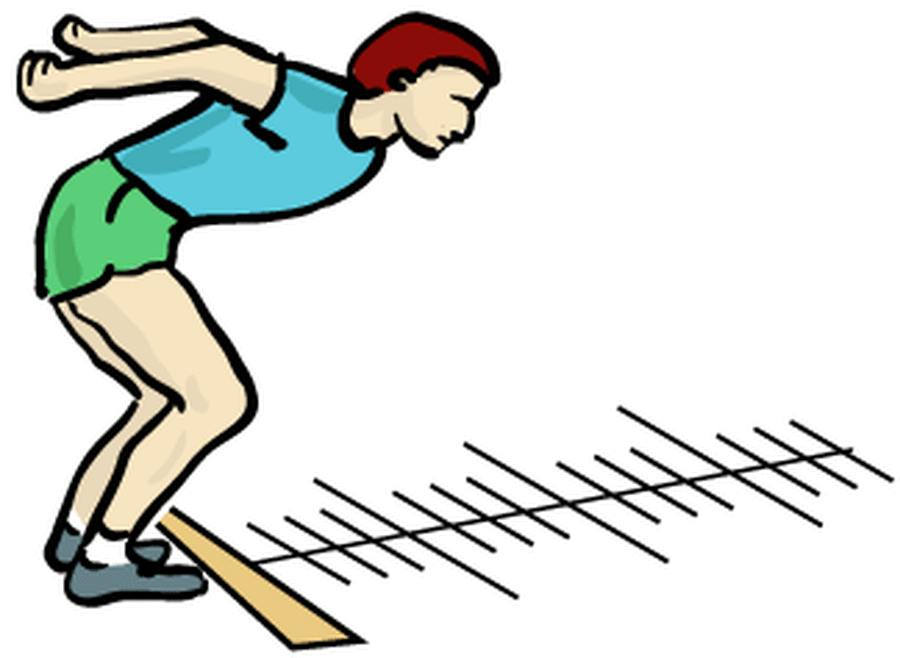 Asking Questions!
Why have some of the animals got bigger canine teeth?

Why has the dolphin got teeth which look all the same? Are they incisors or are they different type of teeth?

Why have some animals got some missing gaps?

Why do animals have different shaped teeth?

Does the diet of an animal affect the type of teeth it has?

These are some of the questions we started to discuss and think about in our science lesson. What do you think?
Being SMART when we are online!
In our Computing lesson we talked about how to keep ourselves safe when we are online. We discussed the SMART rules and we have made a bookmark to help us remember them.
We discussed how important it is to TELL if we are unsure about ANYTHING.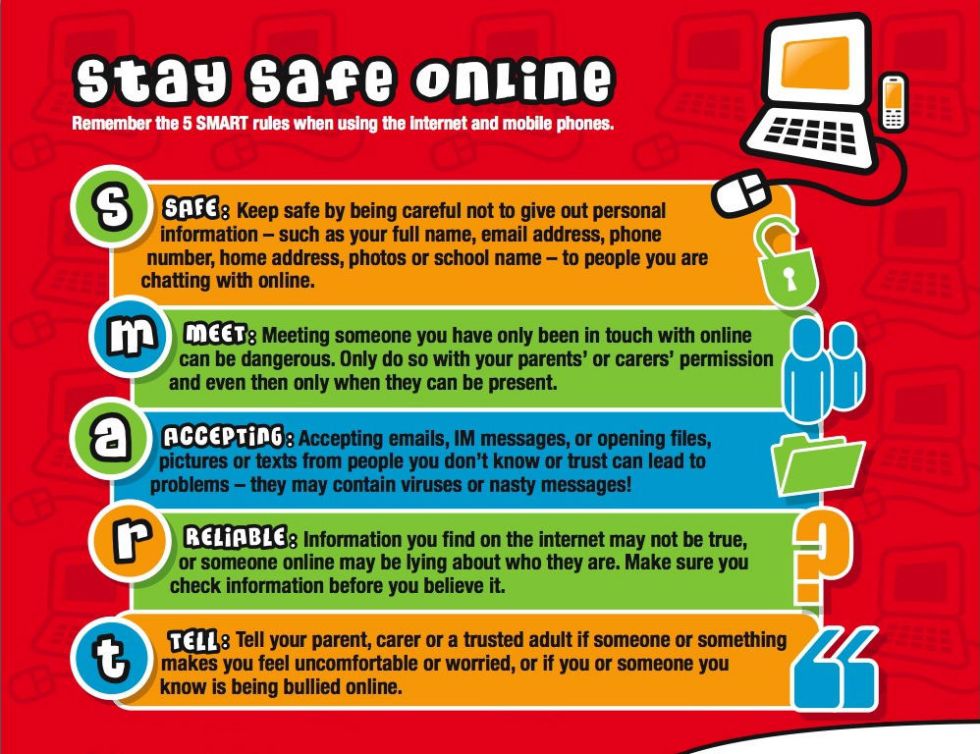 School Council
Our school council representatives for this year are Hannah and Khai.
They were elected by the children in Oak class and we look forward to giving them different ideas to take to the school council meetings.
Congratulations to you both!